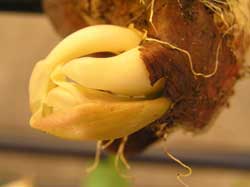 © Lifecruiser 2007 (Tuliphouse, Stockholm)
♥ Join GTS ♥
As you regular readers already know, I'm weird. I think this bulb is in it's own way as beautiful as the real Tulip are when it blooms. I love everything (almost) in the nature. At least I can be fascinated over it and admire it.
It's not really season for gardening right now in Sweden, even though the spring is on it's way early this year obviously – the snow has begin to melt and Thursday morning I heard a wood pidgeon – it has come back from the winter vacation in the south! Hurrray!
Not only that…. They had morning sex this morning outside our kitchen window! What a live show…. *whistles*
This spring feelings make me long for an own garden again…. Of course it's only a dream, my back won't hear about it and what about our travelling? No garden.
Butt if I had a house with garden again, I would:
- Get my own soil for my garden by produce it from my kitchen left overs and paper: a small (smart) compost machine that works indoors
- Spare my back when working in my garden by getting a light foldable wheel barrow
- Make sure that I'd hauls Gear Around the Yard!
- Set up a handsfree mosquito screen for the altan door
- Let it be light by Solar Powered Spotlights, Solar Walkway Lamp and of course, a nice peaceful Solar Lily Floating Fountain to enjoy.
- Listen to the nice birdsongs by getting the Songbird caller
- And how could I ever resist the Dog Pumpkin Animal Kit? A must have for every proud garden!!!
I haven't even mention all the bulbs, seeds and plants I would buy… phew!
…and probably a lot of other cool things from Smart Stuffs garden pages!!!
You could almost believe that I've got paid to advertise, but I'm not, I just liked the products and felt like doing some garden fantasy-shopping