We went to the worlds very first permanent icebar: Icebar by Icehotel in Stockholm. The absolut coolest experience, especially to experience -5C cold degrees in the summertime. A bar built up from ice blocks where even the glasses you are drinking from are made of ice and you need winter gloves to hold your glass!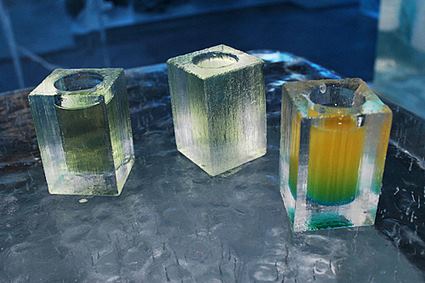 The worlds first permanent Icebar was built in Stockholm 2002, as well as the worlds first Icehotel was built up in Sweden and not anywhere else! Of course, since then this popular concept is popping up here and there in the world…
The Icebar in Stockholm is located in the Nordic Sea Hotel at Vasagatan, very close to the Arlanda Airport Express train, so even if you only have a short time in the city, you can get there.
All the ice in the icebar: the walls, art, the bar and the tables plus some seats, are made from ice blocks up from the northern Sweden: more exact Torne River in Jukkasjärvi, one of the purest rivers you can find today.
The few seats in there were covered – though who want to sit down in there…? It's enough butt freezing standing up!
The icebar is re-designed twice a year with different designs. Right now the design is called "Frozen Format". Our birthday guest we had with us, Jennifer, is from Rio de Janeiro in Brasil and she had never experienced the cold and ice like this before – other from the ice in drinks…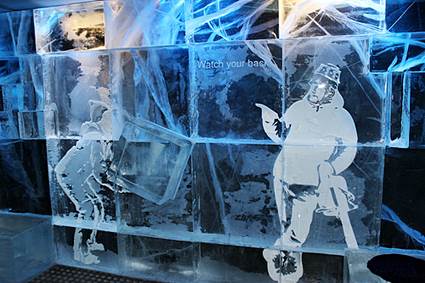 You get around 40 minutes in there, we stayed for 45 minutes and ordered nice drinks twice. You don't need any longer time in there since you start to get really cold after a while despite the cape and gloves they put on you. We started to jump around in silly dances to keep warm. Whatever you do: don't wear shorts and flipflops when going there… Ha ha…
If you want a more unusual wedding, it's possible to get married in there. There are also several other activities there. You will find all the information you need at: www.icebarstockholm.se.
Also have a look at Lifecruiser Icebar Photos at Flickr.
I recommend having breakfast there, a very cool awakening indeed. If you don't wake up after that, I don't know what will wake you up!
©Lifecruiser Love Icebar