We all know who use to say that blogging connect people, which certainly were a suitable expression for our last trip to our blog gathering in France. So what could be a better start of the trip than to stay the night before at Connect Hotel Skavsta?
We decided to stay there to really get a good nights sleep the night before our Ryanair flight to France. After all it's about 100 km to the airport from our home in Stockholm, so we had to leave home a bit too early for our taste.
Normally we're always late with our packing, stay up way too late in the night before going away. This time we wanted to avoid that and arrive as fresh as possible. (Ha!)
It was a great stay there, I'm impressed over this very simple and rather cheap hotel. The standard were great considering the low price: 676 SEK ($92 / €65) for 2 persons in a double room. (You get a 15 percentage off at early bookings).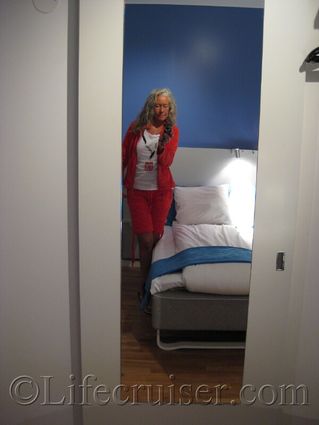 Lifecruiser taking a photo of herself and the room

If you're a family of four and don't mind not having an own bathroom in the room – just want a quicksleep room, you can get away with the low price of 595 SEK ($78 / €55) for all four, breakfast included!
So: Did we get a whole nights sleep there?
Nyes. Ha ha ha. I really don't know how we do it – we managed to stay up a bit too late there too! (Whispering: they have a bar…)
Maybe it was too nice there…? *giggles*
For anyone arriving/departure at Stockholm Skavsta Airport, I highly recommend to book Hotels in Stockholm-Skavsta Airport (NYO). I believe in enjoying your trip to the fulliest and that means that you should avoid being exhausted by early or late flights.
Lifecruiser ♥ Hotels