We spotted a rug here in Sweden that we almost did buy. The most perfect carpet choice for us travel freaks, filled with lots of hot trip destinations to dream about when stuck at home.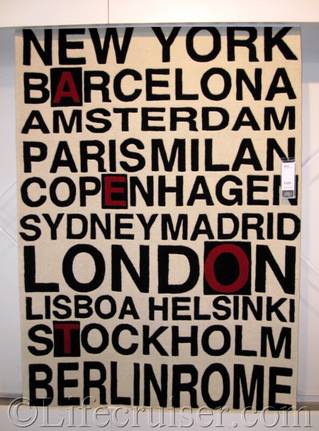 As a traveler I just love the idea of taking a walk at New York, Barcelona, Amsterdam, Paris, Milan, Copenhagen, Sydney, Madrid, London, Lisboa, Helsinki, Stockholm, Berlin and Rome – all at the same time!
We have been to half of those destinations mentioned above and loved them all in different ways and we are looking forward to experience the rest of them….
Which destinations of those printed on this carpet have you been to, loved/disliked in any way or are among your dream destinations?
Lifecruiser ♥ Travelers