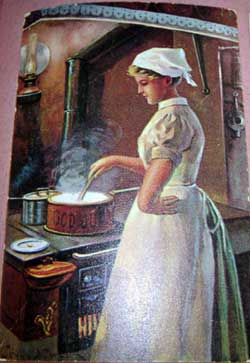 Jenny Nyström 1908
It's a very old tradition to boil rice pudding for xmas in Sweden and they even put it outside for both Santa and the elfs to eat during Christmas. In reality it's said that it very often were animals that ate it. Maybe a fox.
Mr Lifecruiser is childish fond of rice pudding and he is almost religious about how to cook it. You might even call him a rice pudding gourmet

it will be eaten with a lot of cinnamon and some sugar with milk on top of that.
We won't boil ours until maybe the day before Christmas Eve and I'm not sure when we're going to prepare other food since we're away on Christmas Eve. We'll have our own xmas after that.
The xmas preparations is going on:
- Cleaning the apartment
- Wrapping the xmas gifts
- Preparing some of the food
- Sending xmas wishes
- Making xmas phone calls*)
We'll be around during the holiday, not as much as usually, but around. In case you aren't we want to wish you all dear blog friends:
Merry Christmas & A Hilarious Happy New Year!
(God Jul & Ett festligt Gott Nytt Ã…r!)
*) If you know some one that's spending Christmas alone, please take the time to make at least one phone call to them on Christmas Eve/Day. Christmas is a very diffult time for the ones that's alone and just one little phone call can mean a big difference showing them that they aren't totally forgotten by the whole world…