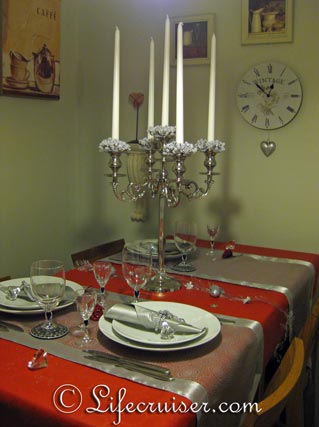 So the Christmas table were all set, this year we did choose a red and silver theme. Even our kitchen curtains is red with silver hearts and stars on them.
We started out with some Swedish Glögg and Saffron buns, to get up the heat and appetite. Which we did.
It looks a bit cold in the top photo, but you know how it is, when the candle lights are lit up and the humans get together, it's all warm and cozy, right?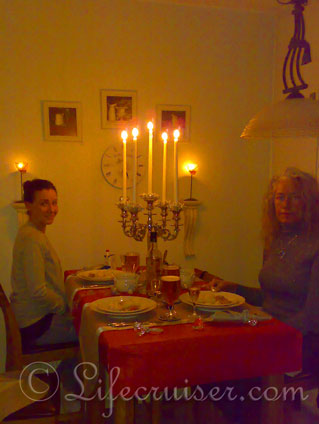 That's Jane and me ready to throw ourselves over the food, hungry as wolves!
I've already told you about some of the things on our Christmas table in my earlier posts, so this will only be an excerpt of it.
I'll start with the pickled herrings, which is a must on the Swedish Christmas table. This plate has 4 different pickled ones on it: Mustard, Archipelago, Herbs and the standard pickled.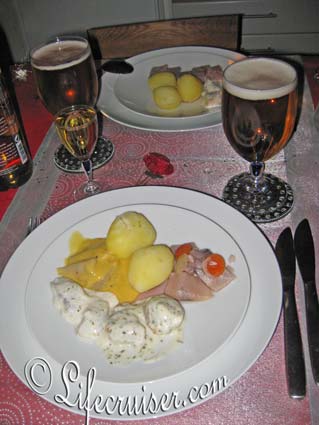 As you can see it's a must to have beer to go with it, and some snaps, strong alcohol. It's among the few occasions when I drink snaps. (Christmas and Midsummer).
After the herring comes the main course, Christmas Ham, Swedish meatballs with beetroot salad (the pink'ish) and sausages is a minimum on the Christmas table.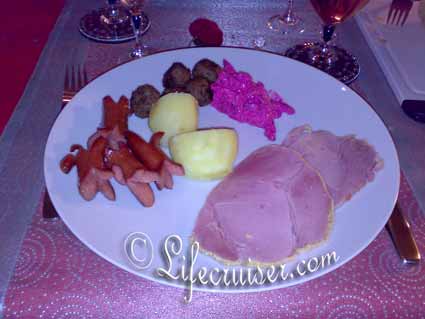 When it comes to the sausages, it's a smaller kind that we call Prinskorv (Prince sausages) in Sweden. The name of it comes from that it's a smaller version of the Frankfurtern or Wiener sausage, which got popular in Sweden through Princess Sibylla.
We like to cut them up in the end to get them to look more fun.
Other people will also have salmon, ribs and much more. We've cut down on it since we're only 3 persons.
Every year the newspaper is publishing tests of the different brands of Christmas ham out on the market.
This year we did buy the one that one of the evening press rewarded as "best in test": Köttcentralen from Helsingborg in the south of Sweden.
Here you can see a close up of our ham, it was unusually delicious this year, not so much fat as it sometimes can be.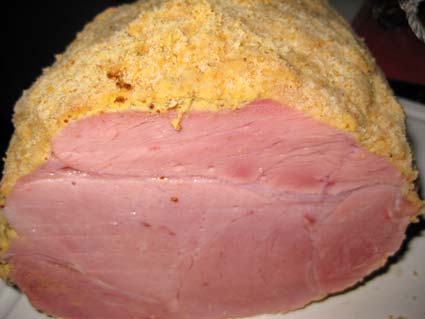 For me, it's a must to make some Colman's mustard to have on the ham. It's so creamy and strong. Yum.
The bread should be dark wort bread or Swedish Crispbread. I like to put some ham on the bread, for hubby it's important with some liver pate.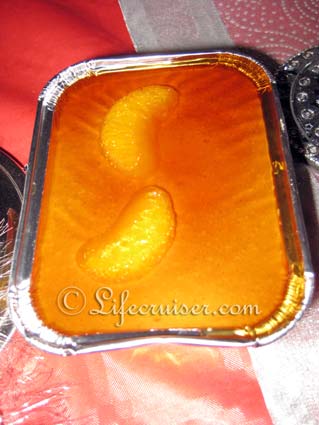 After this we also had some Jansson's temptation, Christmas porridge, Coffee and Gingerbreads plus chocolate, but with some pauses as you surely understand.
Even monster bellies have some limits!
Of course we had the most important too: Christmas gifts exhange, though since we're celebrating with her one day in advance, we had to restrain ourselves from opening them until the right day. This year we allowed her to open the 2 smallest ones.
This was Jane's Christmas gifts from us… oh no, I mean from Santa Claus… *giggles*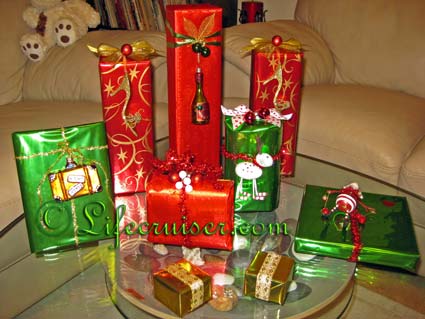 Some of those gifts may be consumed very quickly – at New Years Eve – like the Champagne she got (including Champagne glasses), others is for the spring, that's the gift with the suitcase on.
Yes, that is a promise about a trip together a bit later when the weather has got a bit more nice. Destination unknown at this moment, but that's just making it more exciting…
We got very nice xmas gifts from Jane, unfortunately I forgot to take a photo of them, nicely wrapped and all. We're quite impressed over her ability to find gifts for us, it's no easy task since we don't wish for anything.
Well, except for that Corvette Stingray that always is on hubbys wish list…. *giggles*
I hope you all have had a wonderful Christmas, we certainly did!
Lifecruiser ♥ Christmas
Old Christmas post by Lifecruiser:
Lucia with Glögg and Lussekatter
Lifecruiser Christmas 2007
Swedish Christmas Traditions