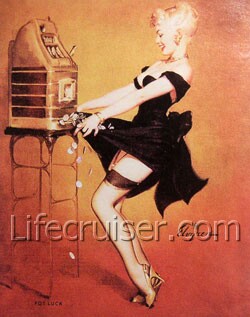 Gil Elvgren, 1961.
© BROWN & BIGELOW INC, ST. PAUL, MINNESOTA
So have you done your Christmas shopping yet?
We haven't – we sure could need a Christmas cash machine like the above

We have been out a couple of times trying to find some special Christmas gifts and we're going to be in the city all day Friday, trying to finish the last ones.
It's no easy task though. We've mostly found either technical things or ordinary stuff for your home and the same big multiple stores everywhere. Buying stuff for the home is not appliably in this case since it's for Mr Lifecruisers daughter and she has no own home yet and no where to store things in advance either.
Where are all the smaller stores with nice, fun or other more interesting and unusual gifts which you find no where else? The ones you could see in the past. Are they all gone?
I wish we could have traveled somewhere else to do the Christmas shopping. Have any suggestions for next years Christmas shopping?
The Swedish Christmas sales volumes is expected to increase with 7,5 percentage during this December, up to SEK 62 billions, that's SEK 4 billions more than last year.
They say that this years Christmas gift over all in Sweden is a GPS since the travel trend is so hot. Well, I must admit, that I wouldn't mind to have one myself, but preferably a better one than there is in the mobile phones now in that case. I'll have to wait a little longer for that…
Maybe even Santa got one, helping him to find his way over here and not get lost on the way? Or wait, that may be because of all the eggnogs he drank…. *giggles*
One of the good thing though, is that people buys more and more of the Christmas gifts over the internet, resulting in less crowded stores than it would have been otherwise. Sweden is placed on sixth place in Europe when it comes to Christmas shopping on the internet.
So, give us some good luck kick in our butts so we'll find something suitable.
How is the Christmas shopping where you live?
Captain ♥ Lifecruiser
Don't miss to cyber cruise with
Mar to Gran Canaria