Last Saturday we went to a Champagne tasting at the Historical Museum of Wines & Spirits in Stockholm, Sweden. It was a birthday gift cert from my siblings that it actually took me a year to finally book!
For someone with my deep, deep love for Champagne, attending a Champagne tasting event really is something truly extra-ordinary to experience!
The guide Nadja was simply awesome. Besides knowing everything about Champagne, she also got a great way of sharing all that knowledge way beyond what was part of that tour - and had a fantastic sense of humor which we appreciated very much.
We started out tasting a rather special sparkling wine before entering the museum's exhibitions. This sparkling wine was perhaps not the greatest in taste, but it were a sample of how the very first sparkling wine tasted.
A mistake from the beginning, but ended up with such awesome results!
The first thing we got to see and hear a lot of interesting facts about, was the 1000 millions of years old bedrocks of limestone chalks, which is what makes Champagne mineral taste so special.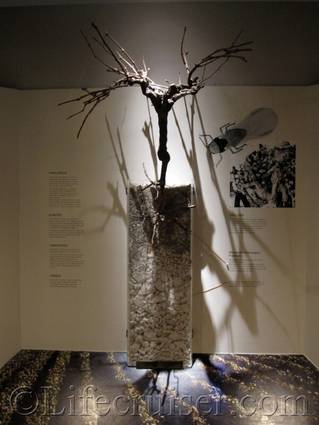 It's the fact that it's so hard to reach the ground water at several meters depth, that makes good grapes. They need to be stressed to create a good result.
I instantly thought: "Hey, this is almost like in our summer paradise island Gotland - could it be possible to make Champagne there…?"
Of course it could. At least if we get some more of that global warming because the grapes needs that special temperature around - and perhaps more hills to the South, because the island is rather flat.
As you know, it was said that the monk Dom Perignon discovered Champagne, but since then it has been disputed since an English scientist discovered it 30 years before Dom Perignon.
Dom Perignon was originally charged by his superiors to get rid of the bubbles since the pressure in the bottles caused many of them to burst in the cellar. As sparkling wine production increased in the early 1700s, cellar workers would have to wear heavy iron mask to prevent injury from spontaneously bursting bottles. The disturbance caused by one bottle's disintegration could cause a chain reaction, with it being routine for cellars to lose 20-90% of their bottles to instability. The mysterious circumstance surrounding the then unknown process of fermentation and carbonic gas caused some critics to call the sparkling creations "The Devil's Wine". Source: Wikipedia
What a sight with all those bursting bottles!!! Then of course they learned how to handle that problem after a while…
They did turn the bottles manually back then - what a job, to go around turning hundreds of bottles a day in the wine cellar!
Before we entered the Champagne tasting room, we got to see another item in the museum: the fantastic "smell organ".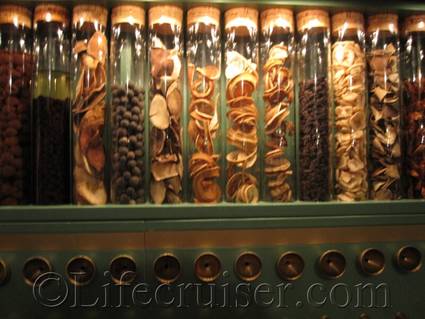 Here we could sharpen our noses testing different spicy smells, not used for Champagne, but still great to clear up our senses before the tasting.
We got to sit down with those 3 glasses and paper plus pen in front of us, listening to Nadja guiding us through the art of tasting, how to really feel the different tastes and also how they changed after we tested the other ones.
As you know, the grapes used in Champagne are especially Chardonnay and Pinot Noir or Pinot Meunier. The Pinot grapes give the wine its length and backbone. Chardonnay grapes gives the acidity and biscuit flavor, which we clearly could notice.
Glass #1: Lenoir. Light in color, a smell of green apples, fresh acid taste. This Champagne will do best served really chilled in a Champagne cooler. Clearly a young Champagne made of Chardonnay grapes which could do well together with fat food or certain cheeses like the French Langres cheese.
Glass #2: Napoleon. From 1996, with a darker look, an old smell of mushrooms with the taste of old pears - reminding us a bit of Calvados actually. We didn't like it that much at first, but it did grow on me after have tasted the other two several times in between. Very interesting taste.
Glass #3: Paul Barra. From 2002, pretty light in color, didn't smell much, taste of red ripen apples, made of 90% Pinot Noir. Could very well be stored until around 2015 to make the most of it.
Which one we liked the most? Hubby did like #3 the most, but I can't really say if I liked #2 or #3 best - they were so completely different from each other. If #3 had not been there, the tasting had not been as interesting as it were…
For me, Dom Perignon still is my personal favorite - maybe because it's a Vintage Champagne - or am I just amused about the thought of the monk story behind it? *giggles*
Though after this I do understand what Nadja said about interesting tastes…
As Mark Twain said: "Too much of anything is bad, but too much Champagne is just right."
…or why not do like the extravagant Marilyn Monroe, that is said to have taken a bath in 350 bottles of Champagne?
We both do find some of the French Cremants or Spanish Cavas as acceptable as a genuine Champagne at some other occasions. We don't have to drink Dom Perignon or Cristal every time….
In Sweden we are only allowed to buy alcohol in Systembolaget stores and we have a store with special assortment of wines at Regeringsgatan 44 in Stockholm City.
Cheers my dears!
Lifecruiser ♥ Champagne