Spring may be a better choice for your vacation since everyone else is traveling during the summer, making prices for accommodation and everything else more expensive than at other seasons. In some travel destinations high season don't start until the end of April or even in May. If you're early you will get more reasonable prices and no crowds invading the same place. More paradise peace for your money.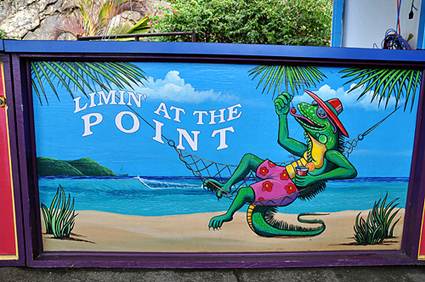 Paradise Point Sign, St Thomas. Photo by Chuck Kramer
Another bonus you get is that the trees and flowers are in early bloom, so make sure you choose an area that is generous with natural beauty.
Carnival in the U.S. Virgin Islands
Spring means great weather and Carnival in the Virgin Islands. Like most Caribbean Islands, carnival is a huge celebration. Expect many choices in entertainment and activities, for adults and for children. Try out Caribbean food with your favorite beverage as the kids ride amusement rides.
Cherry Blossoms in Washington D.C.
Through March and the beginning of April, the nation's capital is in bloom. Visit to see the gorgeous cherry trees in blossom. The best thing about the cherry blossoms is that they are free for everyone to enjoy. While you are there, hop on a bus or trolley for a guided tour. You can also take a river cruise on the Potomac.
If you want a little exercise, rent a bicycle or take a walking tour.
Tulip Love in Holland
Tulips come into their glory in spring. You can take Delta flights to Holland from mid April to mid May to see the country's tulips and enjoy their tulip festival – or even the Bollenstreek Flower Parade. If you do not want to travel overseas or do not have the budget for it, no need to worry. The town of Holland, Michigan also puts on a tulip festival each year. You will find people dressed in traditional Dutch clothing and experience concerts, parades and more.
Remember the Alamo
This historic mission is located in San Antonio, Texas. Temperatures can get suffocating, hot and muggy during the summer there, so you will have a more enjoyable experience by visiting in the spring.
After you have visited the Alamo and taken the standard, smiling tourist photos and bought a few postcards, wander down to the city's famous River Walk. – It isn't far away. There is so much stuff to do in the festive area. You can easily spend days there without a moment's boredom. Eat at one of the many restaurants along the walk, have a drink at one of the bars, shop for gifts at one of the boutiques or take a boat ride.
In addition to the River Walk, visit the San Antonio zoo and Seaworld San Antonio.
Visit Europe
If you plan well in advance, you can find good airfare before the airlines raise rates for summer travel. There are parts of Europe that are exceptionally beautiful in the spring – these include France and southern Germany.
Temperatures are still crisp in March and April, but flowers will be blooming and the lush green countryside is something you won't want to miss. Tour vineyards and sample some wine and local cuisine, and visit a castle or two on the way.
All in a good, relaxed pace making you more relaxed than ever on your vacation. No press, no stress to get anywhere before the crowds. Just you and the genuine joy of exploring something new.
Lifecruiser Love Spring Travel