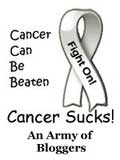 Have you heard of An Army Of Blogger? It's an newly started blogroll which will unite bloggers in the fight against cancer, mostly by encouraging us to make an annual contribution to fighting cancer.
I was lurking over at Blue Star Chronicles when I stumbled upon this excellent reminder of that we're not immortals.
So I've just made my annual donation to The Swedish Cancer Society for the fight of Cancer.
Sweden is wellknown for excellent research despite our country's small size. In 2006 the Swedish Cancer Society raised almost 360 million Swedish kronor by private donations, which is about 52,5 million USD.
That is rather good considering that we only am about 9 million inhabitants in Sweden, but it can always be better!
Every one knows some one that have been striked by cancer – and we'll never know, tomorrow can be our turn, so why not donate to the cancer research as soon as possible?
This is the one disease we really have to fight before it destroys too many of us. We must put an end to all this human suffering that is involved with cancer.
If every one of us just donated a small sum, it would still be tremendous amounts together.
Think about it: instead of buying that extra candy, cigarrettes, new dress that you really don't need, donate the amount to some cancer research instead and feel good about yourself

It might be your grandchildren you're saving…
An Army Of Bloggers can make a difference!
Captain Bucks Lifecruiser

Last port: End of the film festival in Cannes.
Do you want to hop aboard at next event?
Read about Cruiser Grades.
Read more about Lifecruiser cyber cruise.
Cyber Cruise Calendar 2007
Cyber Cruise Souvenirs
Lifecruiser Cyber Cruise in Technorati