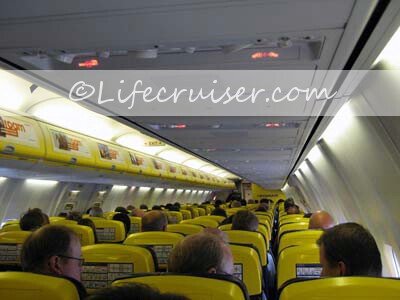 When we went on our budget trip to Bratislava and Vienna, we did choose to fly with Ryanair. Remember that we made it to a sport to make this budget trip as cheap as possible? Who can resist a flight ticket price of zero crowns?
We only had the taxes and handling fee to pay, which in this case where a total of SEK 476 ($79 / €50) for us both. No fuel surcharge either. Can it be any better? This means that we can go on several trips for the price of what otherwise would have been only one trip – and we do want to go – everywhere!
I'll never understand why people whine over Ryanair. We've been very pleased with them every time. It's a low budget flight for gods sake. You get what you pay for and that's pretty much for the small amount you pay – especially if you're flexible with the dates and can grab their real cheap offers like we do.
We've gone away on charter trips which have had exactly the same airplane types (Boeing 737-800) as Ryanair – airplanes which has not been in as good conditions that Ryanairs airplanes has been – and not had any better service aboard either.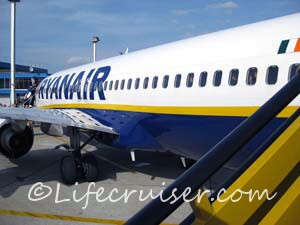 If you read their terms, keep an eye on their schedules (because they can change), follow their directions – all is written clear and loudly on their website – you'll be doing fine. Don't be late, don't book flights with too tight time schedule to catch other flights or hotels and get something to eat before departure.
It's all about your own awareness and attitude I'd say. Which actually goes for not low budget flights as well!
The seats in the airplane is leather seats and quite comfortable – more than in some other planes I've been and my legs fit in without me having to sit with my legs separated like a man who doesn't want his balls squeezed. *giggles*
Another plus is the safety information which is glued onto the seat in front of you and not a loose, damaged card in the pocket of the seat. You've got it in front of your eyes the whole flight.
I do like that the airports where they're landing are smaller ones outside the city destination of your choice, because you don't have to get lost walk so far and it's easier to find the baggage claim. Not to mention the toilets… Uhum.
Our nearest airport for Ryanair flights is Skavsta Airport, Nyköping, ca 100 km fr Stockholm. If you have an early or late flight I really recommend you to book Hotels in Stockholm-Skavsta Airport (NYO), to not be so tired when starting or ending your trip.
Nyköping is a pretty small town, so if you've been there once, it's enough with only 1 night at any of the Hotels in Nykoping while getting to the airport (and in some weather nothing seems especially interesting other than departure to better weather!)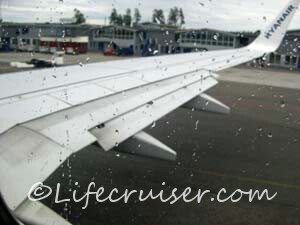 If I'm afraid of flying? Not at all. It's more likely that I'm gonna end up in a car accident than in a plane crash – and why worry about something that hasn't happened? That's just not my style. I live every minute, takes the day as it comes and enjoys every minute of it.
I simply love the freedom feeling of flying. When I'm up above the clouds, I really am in heaven – where the sun always is shining, on my way to explore something exciting in this wonderful world!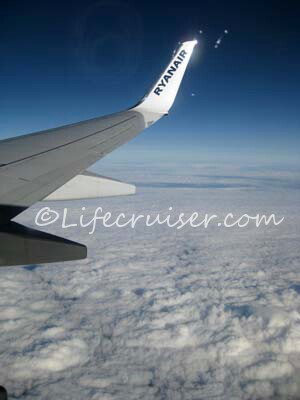 According to their passenger figures for 2007, Stockholm Skavsta Airport has taken position as the 3rd largest airport in Sweden and I'm not surprised. The low budget idea allows travelers with not so fat wallet to see something of the world too.
Considering the increase of passengers Ryanair's have had during the years, I think some people agree with me…
Their first year 1985: 5.000 passengers
Ten years later 1995: 2.260.000 passengers
May 2007 -May 2008: 52.460.000 passengers
I love to see countries from above, because you get to see what's typical for the different countries. Here you can see a typical Swedish Falu red painted farm from the air.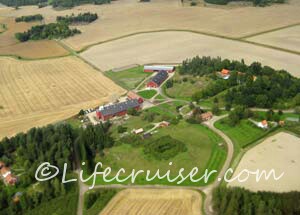 This second photo shows something else that's very typical for Sweden: water. We have around 100.000 lakes that's bigger than 0,01 km2 and they are together about 40.000 km2 – about 9 % of Sweden's total area.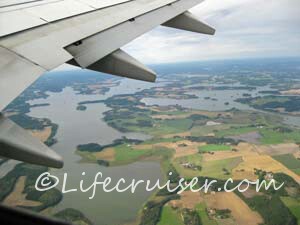 So what about the environment issues with flying?
People will not stop flying as long as the other options don't get better, cheaper and more available. We need or like to get around and we can't just take that away now. What we need to do is to invent new ways to do it that is more environment friendly.
Speaking for myself, I will not stop flying, because it takes too long to get from point A to point B as it is right now. I'm not young or particularly healthy either for that matter. I really want to use the time I have left as effective as possible to enjoy life. Besides that, I didn't travel at all until 2004 – if that's any excuse…
Ryanair is a greener alternative than other airlines, because of it's newer fleet of airplanes, which is much more fuel efficient than older planes. They also fill their planes with more people on each flight. I've read on several places now that even the Dutch Consumer Organisation have said that Ryanair is the least polluting airline in Europe.
I was also positively surprised when I saw that they rank as #1 on time and for fewest lost bags per 1000 passenger for major airlines in Europe. Not bad, not bad, for such a criticized airline. Or maybe it's just that: they are too dangerous for the competitors?
Another thing I'm pleased to see is that a new Connect Hotel Skavsta has opened, located very suitable only 75 meters from the passenger terminal. That means that if you have a bit to drive to get there and you've booked an early flight, you can stay there the night before.
This time we did catch a flight from Skavsta to Bratislava, which is right at the border to Austria and only about 67 km from Vienna. If having a very early or late arrival or departure, you can easily find great Hotels in M. R. Stefanik Airport (BTS).
Another very small airport. But hey, just look at the weather that did welcome us!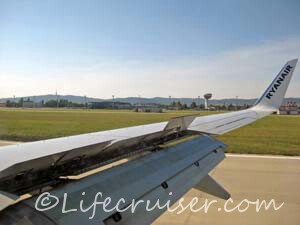 This is the arrival hall at Bratislava, the photo is taken from where the bus stop area is, so it's not difficult to find your way around there.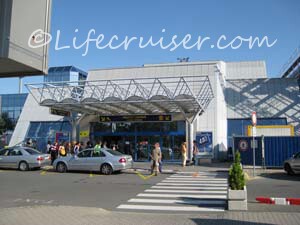 From there you can take the airport shuttle bus directly to Vienna – or as we did: the local bus #61 to Bratislava city center to stay there for a night and explore one more city.
Be aware of though, that when taking the local bus it's a good idea to buy the ticket in advance in the departure terminal.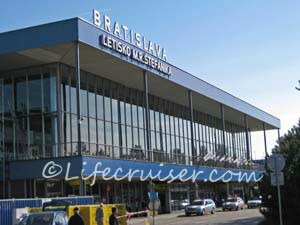 Or use Slovak coins in the bus ticket machine at the bus stop. You can not buy it from the bus driver. The ticket machine text describing the ticket prices, is mostly in Slovak.
Click on the photo to enlarge it in Flickr and see if you can understand which ticket you should choose!
You need help from a local – if you don't happen to be fluent in Slovak, which we aren't. Well, maybe after all the tasty beers they have there… *giggles*
So this was perhaps the more basic facts of the trip. There are many great Hotels in Bratislava too choose from, and even more Hotels in Vienna. As usual it depends on what special tourist attraction you want to be close to!
Lifecruiser ♥ Travel