Remember when I wrote about how to book a cheap trip to Vienna? Well, now it's time to go there!
*jumping up and down with travel joy fever*
As usual I had to dry some of my clothes with the hair dryer… *giggles* A good thing is that this time I'm done with the packing early, so I might actually get some sleep! Of course, it's easier now since we're only taking a few things as hand baggage (!).
Yes, we are nuts. This is a trial. Or we might call it a challenge. We're staying away for 6 days and are only having one 55x40x20 trolly each. The trollies because we're old people. Our bodies have problems. They don't know how young we're feeling.
We made it into a sport to manage this trip with as little baggage and as cheap as possible. Well, except from the sightseeing, eating and drinking, we can't be without that :-O
We had a Sunday surprise though, when we checked the oil in our car – there was none! And I really mean NONE. Totally DRY! Phew. We have no idea where it has gone. No visible leakages. It should not be empty yet. Luckily we had some in the car trunk, enough to get to the gas station for more.
Could have been a catastrophe – again! Remember in 2005 when coming home from South America and our car engine broke down totally? Cost 12.000 SEK (1246 EURO / $1830) to exchange the engine top. We don't want that to happen again! Ever. We need our money for travel.
We've actually already checked in to our flight – we did choose the online check-in, so we've printed out our boarding cards at home. And hopefully we get them with us…. but no big deal as we can print them out again if we should forget them.
Repeat of trip facts: We'll be away 1-6 September. The first night is in Bratislava, at the Downtown Backpackers Hostel, the next day we're taking the TWIN CITY LINER shuttle boat (approx 75 min) on the river Danube to Vienna.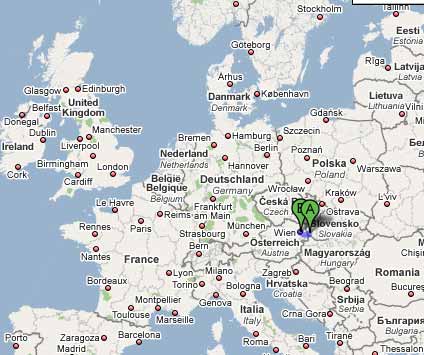 You can see where Bratislava and Vienna is located on this map and how close they are to each other, it's about 60 km I think. Stockholm where we live is in the top of the map.
In Vienna we're staying at the Wombats City Hostel Vienna – The Lounge for the next 3 nights.
Watch the video to see how we will get here…. *giggles*
We have not planned our time there except for one event only, we like to take the day as it comes and depending on our shape that day. This is relaxing and being on vacation one hundred percentage.
Of course we have heard of a lot of things that is worth seeing over there, so we'll see what we feel like and the moment takes us. We don't like to plan too much.
One good thing we've heard about Bratislava is that you can get a good local beer for about a forth of the cost of a beer here in Sweden and cocktail drinks even cheaper than a fourth of our prices. Important stuff

The last evening is the highlight of this trip – my dream since childhood: to se a gala performance of the Spanish riding school. Woooot! I'm like a child at xmas right now!
That night we'll stay at Graf Stadion Hotel (***), because it's closer to the Hofburg Palace where the gala performance is.
I'll try to post something while away and some short Plurks too. (See my left sidebar)
We haven't decided yet how we'll go back from Vienna to Bratislava where our flight is. We'll see what we feels like. Or as we say on every trip of ours:
We'll see if we will come home at all, maybe we'll stay there…. *giggles*
Lifecruiser ♥ Travel