After been so disappointingly forced to just pass by Claudie in the town without being able to stop and finally meet her eye to eye after 3 years of blogging together, we trusted our GPS once again, this time to lead us to Claudie and Pierre's home…
On the way there we were served the most beautiful views. Like this one over the bay in Toulon, with some military ships.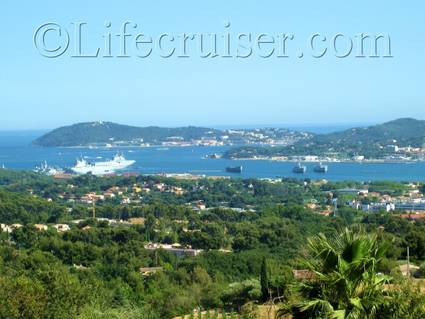 I understand why she wanted to meet us in the town first, because it can be some difficulties to find the right way there.
Did we find our way? Well, yes, but the GPS lost track in the end and we passed some private gates and wanted to make sure we were not trespassing on someone else property, so we had to call them to make sure we were on the right way. Which they confirmed.
First we did see their house – such a lovely, inviting country house with lovely flowers. I was very charmed by it already at first sight!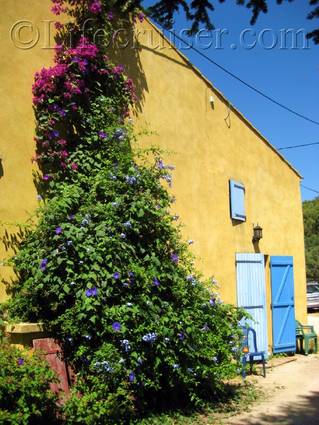 Then we saw Pierre – with the biggest and happiest smile you can have – showing us where to park the car. Ours too, I could feel the smile going high up from ear to ear.
I got out of the car as fast as I could, to first say hello to Pierre in the way they do in this part of Provence: one kiss on each cheek. We were so happy to receive this warm and heartily welcoming – after all it was mostly Claudie and I that had been blogging together.
In Sweden we're either shaking hands and/or giving hugs – almost never kisses – so this was a true French experience in itself. A very nice one.
Then we went forward to the house where the others were and finally, after three years of blogging together, Claudie and I got to meet! What a loaded moment! Such big happy smiles! So many emotions and fun memories going through our minds as you can imagine!
I still can't melt what a welcome we did get. Such fantastic hosts. We also got to meet Claudie's sister and husband – a very nice couple that too.
What do you think we started with? Yes, of course: Pastis! It was my obvious choice since I had never tasted it before.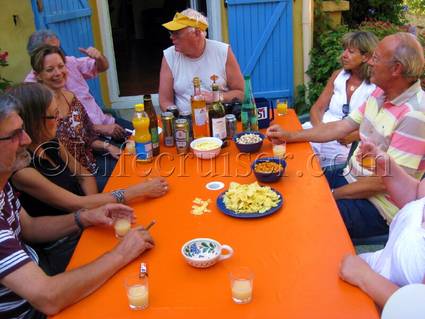 We chatted, laughed and has such a blast for ages. Hours and hours went by and also loads of delicious things to eat…. and drink!
Oh, my, how they had prepared well with local specialities like Anchoïade, tapenade with vegetables and pissaladière to welcome this hungry monster! *giggles*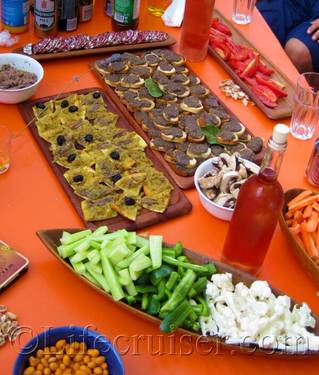 I tell you, this must have been one of the most well documented meetings ever, we were at least 5 person taking photos! Like crazy Paparazzi's!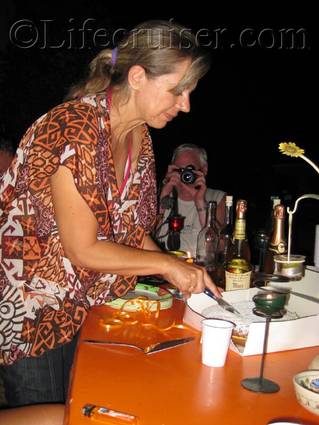 Needless to say: we stayed up very late, despite the fact that we had been traveling. It was simply so hard to break up from those wonderful friends and go to bed!
After those years of blogging I felt like I had known Claudie for ages already, like we were old friends and that was established even more when we finally did meet each other. She was everything I had imagined – and Pierre too!
They're such a lovely couple, so kind and with such big hearts – and they're for ever included in our hearts. For ever friends were my words one day, just like our Norwegian friends that were with us on this trip.
We were having such a good time together, but you never know until you have met each other for real, do you?
Every night we were really late (more like mornings) and the weather was so hot for us Scandinavian vikings, so it really were a wonder that we managed to do something at all while being there!
So then you wonder what did we do there then…?
(to be continued in next post…)
Lifecruiser ♥ France

Earlier posts in this series:
French blogger host lost
Start Fart of France Trip
Marseille Air Lair Stare
Pastis in Provence Southern France
Photographer beholder but not older
Connect Hotel Skavsta Airport