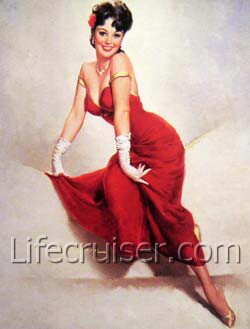 Picture Pretty, 1967.
Oil on canvas. Gil Elvgren.
© BROWN & BIGELOW INC, ST. PAUL, MINNESOTA
Welcome to our Blog Warming Party #1!
We are ghostly happy to great you welcome to our new spooktacular home, created by the blog design goddess Leanne.
The Ghost Boo Face which I am so in love with is originally created by the amazingly talented Carole Nickerson and tweaked by Leanne.
We are holding an open haunted house this Friday until whitching hour, so stay haunted!
Have some Champagne to start with to dare more: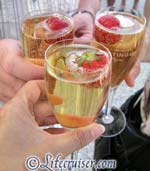 Cheers for YOU that makes this blog to such a fun place to be. May we have as much upcoming fun as we have have in the past. It truly has been a blast!
Blog Warming Party #2 will be in November and we will have #3 in January 2008 too. No need to say that we love to party hah? *giggles*
Eat, drink and be scary!!!!

At first cock-crow the ghosts must go back to their quiet graves…
We have a lot of Halloween fun coming up here at Lifecruiser, so this is just some pre-partying…. *giggles*
♥ Do not miss Lifecruisers Halloween 23-31 October, with a spooktacular Halloween Party the 31th! Read more about it here!

All bloggers are welcome, come you too!

Help us spread the word by displaying a button in your sidebar – with a link back to this blog – grab them over at Sannis blog!