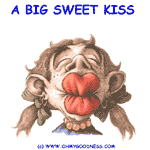 Thank you! Thank you! Thank you The Blog Herald for choosing us to be the blog of the day….
We are moved in to the deepth of our hearts… Tears in our eyes… The champaign will flow freely all day long!
Cheers every one

At first we could not really beleive it was the truth, was it someone making fun of us? But, no, there it is in The Blog Herald!
Wow, we are so proud. Speachless for a moment.