Captain Lifecruiser is not saying Trick and Treat, I'm saying Love and Treat… your friends well

I'm sending blog love to all my blogbuddies – both old and new friends! You rock!
Spreading Blog Post Love
I've been tagged by Midas. This time a bit different meme – it let's you promote 3 of your own posts.
This is a golden opportunity for the A-Team Cruisers to highlight your best Cyber Cruise Posts and for our other fellow cruisers to highlight their other favorite posts!
It's important to get links within posts, because it's an excellent way to get other bloggers to come to your blog and enjoy your blog posts. This is a way to perhaps meet some new blogging friends too

You're supposed to choose 5 other bloggers to tag, but I just have to choose my most frequent cruisers since they have done such an excellent job this year at the Lifecruiser Ship!
I tag my A-Team Cruisers: A., aka'Raquel, Sanni, Debbie, Hootin' Anni, Melli, Claudie, Mar, EvNucci, RennyBA, Gina, Heather, Maribeth, Chase, TorAa, Gattina and Caledonia.
…and every blogger that wants to do it

What to do:
Find three post of yours you'd like to promote.
Add your blog and those post with it's specific links in the end of the list already here.
Tag at least five different people to spread the love.
Feel free to visit the links below.
These are the links. Let the Love Dove fly!
Revellian dot com
SEO Keywords For Beginners
Content: The Kings Illegitimate Stepchild
Tales of Blogger-X Illusion
Mariuca – Wishing On A Falling Star
Love In Disarray
In Love With A Dream
The Good Client
First Time Dad
Homer Kidnapped
Something Ends
Good Night Sweetheart! Hello Basil!
Speedcat Hollydale Page
Rocket Boy in Hawaii – DC9
Speedcat's Death Ride into Terror!
The Boy Inside All Men
Lady Java's Lounge
Are you a Genius??
The secret to a happy marriage
I've got a twitch in my eye
Cat Tales
Sunday was Bathday
Someone got locked in!
When she's sleeping….
Being Woman – The Joy of Being One
A Handbag Lunatic
A Real Deal
What makes you fat?
Make Money Online
Share Uploaded Files and Earn
Fight Back against computer-security threats
Earn Money 3 Ways with Shareapic Program
Rooms of My Heart
Let's Celebrate with Us
Join Tribute to Dads Project
8 things that make who I am now
Life with the Two Crazy Dogs
35W Bridge Collapsed Survivor
10 Questions
Traffic Violation – Bite Me!
Attitude, the Ultimate Power Cookies
Happiness is a Decision;
Choose to be Happy
Happiness Vs. Human Nature
Terri Terri Quite Contrary
Just How Immature Are We? Finding a Voice
So Much More to See than the Game
Moneys online
what is stumble upon?what is service?
How to make trafiic???
What is SEO???
Emila's Illustrated Blog
Green
Fashion
Captain
Amel's Realm
In Memoriam
On Trust and Relationship
Marriage Review
Dutchcorner
The Key
Cellphones
It's all in the ears
Lifecruiser
Paris Butt No Hilton
The Drottningholm Palace Park
Let me know if you wanna do it and I can send you an email with an example of the code as it is in my blog post, just to make it easier for you

Hootin' Anni's Halloween Treat
Another spooktacular nice way of promoting other bloggers is the Halloween treat that Hootin' Anni has been handling out every day -and so even to Lifecruiser!
"… a treat to 1-5 to bloggers who drop by during the week for visiting. You're more than welcomed to pass it along to ones you think are deserving of a special treat for the season. Kinda like "Pay it Forward" Y'know, one goodwill gesture deserves another?

But DON'T just choose your friends making this cliquish and "just groupies"… Make NEW friends by choosing random visitors!!!
It seems that 'awards' are floating around blogland and just "blog friends" get chosen all the time. Make it RANDOM!!

If you do decide to share it with others then, USE THIS "TREAT" IMAGE and link it back to my blog and explain where the idea originated".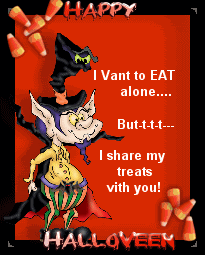 So, I've decided to pass it out to the following bloggers:
Jeni Hill Ertmer (New A-Swab Team member)
International Mom (New A-Swab Team member)
Scart (Will come to our Halloween Party)
SandyCarlson (Will come to our Halloween Party)
Isabella Mori (Participated in the Share Your Scare Event)
Warmth welcome my new friends, I hope you're going to enjoy your time here on Lifecruiser

How do You Celebrate Halloween?
All bloggers are welcome to our Event tomorrow: "How Do You Celebrate Halloween?"
Tell us in a blog post at your blog (or dig up an old post) and leave a link in the comments, or just tell us in a comment.
See ya'll tomorrow, Tuesday

Captain ♥ Lifecruiser
All bloggers are welcome to Lifecruisers Halloween 23-31 October, with a spooktacular Halloween Party the 31th!