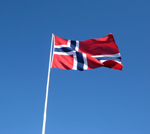 To honor Anna at her 3×20 birthday the Norwegian flag were raised, but of course we also had to hold a speech to honor her, right?
Since we had known about the birthday for a very long time, one can think that we had plenty of time to prepare for this speech. So was not the case. We only had some ideas and things with us to visualize them. As usual we get things done in the last minute. *giggles*
What we did was to stay one night in a small Swedish village at the border between Sweden and Norway, in Töcksfors, at Hotel Victoria. We had checked up in advance that the hotel did have a bar, so we thought that we'd have some drinks there to get in the right mood to compose a speech.
Wrong! The hotel had recently changed owner and did not have the permission yet to sell alcohol to their guests! Anyone that have been to Töcksfors know that there are nothing. The village has 2 pizza places, 1 small church and a new shopping mall. That's all.
What to do? We quickly went to one of the pizza restaurants before they closed and had 2 beers and then back to the hotel to get the speech together. It took some time, so we didn't get to bed in time.
Just when I started to fall in sleep, Mr Lifecruiser suddenly started to laugh and said:
- I've just come up with something more for the speech. It's so funny… but I tell you all about it tomorrow.
Do you really think that I could sleep after that comment…?
No, of course not, so he had to tell me and we giggled a lot and came up with something more. Needless to say, we didn't sleep much that night… *giggles*
Before going to the birthday party, we did one more stop in Norway, at another friend, Kari, for one night. We had a great time with her – I'll write more about it later. In the evening we tortured Kari with a trial to do a rehearsal of the speech… Already there I just knew that I was going to have some problems keeping my face.
We did sleep on an air mattress on her floor and after about half night, the air went out of it! This meant that we didn't sleep so well that night either and arrived to the birthday party in rather exhausted mood, you know the kind of tiredness that can make me dangerously giggly…?
Our speech to Anna went something like this:
First a faked quarrel about who had the speech on paper and where… Searching in the bag for the speech – finding something…
Mr Lifecruiser reads:
- A roll of snuff, one carton blue camel… oops, the wrong list!
*throwing the paper over the shoulder*
Mrs Lifecruiser reads:
- Falu sausage (Swedish)… Pickled salt gherkin… What?! This is not the right list!
*throwing the paper over the shoulder*
Mr Lifecruiser reads:
- Dentist 15.30… What is this, the wrong list again!
*throwing the paper over the shoulder*
Mrs Lifecruiser reads:
- Laundry.. No, what is this, this is not the speech either!
*throwing the paper over the shoulder*
- OK, since we don't seem to have our speech we have to improvise and we want you all to help us a bit by making a wooo-sound every time Mr Lifecruiser lift his arm up in the air.
He tested – it worked very well! Wooo! He couldn't resist trying it several times and they were with us all the times. Lovely guests at this party!
Mr Lifecruiser makes sounds like a horse trotting…
Mrs Lifecruiser giggles uncontrolled behind the folding fan which makes Mr Lifecruiser laughing too… *giggles* He pulls himself together with big difficulty.
Mr Lifecruiser loudly:
- Quiet! I hear something! It's messengers from the King!
Mr & Mrs Lifecruiser goes back some steps and pretends to arrive at the party now, looking tired and sweaty.
- We are messengers of the Swedish King and have been riding for 7 days and 7 nights to congratulate Anna on her 60th birthday – have we come to the right place?
Everybody answer: - Yes!
Mrs Lifecruiser curtsied and Mr Lifecruiser bowed presenting themselves as The Baron and Baroness von Fjärt (Fart!).
Mr Lifecruiser says:
- Hear, hear, good people, nobility, royalties, farmers, poor people and other riffraffs. We're here as messengers from Carl XVI Gustaf of Sweden, since he couldn't be here himself to honor you at your big day. Because you're 1/4 Swedish the King wanted to give this gift.
…and he raise his arm and the other guests goes woooo and he gives Anna a small table flag with the Swedish colors, blue with a yellow cross. (You can see a bit of it it in the photo down in this post).
Mrs Lifecruiser says:
- As you might know the Kings royal motto is: "For Sweden – with the times" and we thought that we should keep up with the times. One thing that not is so wellknown is that Carl Gustaf wanted to give his Silvia an orderly lift. To his help he took his good friend Per Ulrik and developed a new plastic surgeon technique that he now want Anna to be the second person to get.
Mrs Lifecruiser turns around, searchs the bag for the right equipment and turns around – oops, with new boobs! Mr Lifecruiser raise his arm and the other guests goes woooo… Lots of laughter… and Mr Lifecruiser couldn't resist to queeze them…. *giggles*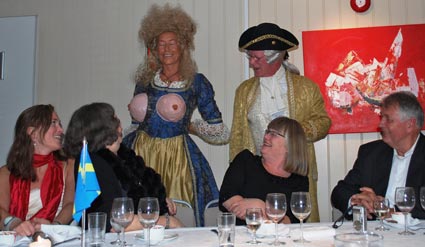 - …but really, you don't need those… Schhhhhhh…. but don't tell the King….
*throwing them over the shoulder*
- We know that you're a great Gourmet Anna and this is a gift who the king himself has been the model for.
…and she gives Anna a box with Pasta and Mr Lifecruiser raise his arm and the other guests goes woooo…. but this is not any ordinary Pasta. P*nis Pasta! (…and I can tell you that they get bigger when you're cooking them!) *giggles*
Mr Lifecruiser says:
- On account of your silver wedding celebration the King wanted to give you some royal court jewels, which even Tor can enjoy…. for a while.
… and he gives Anna a box which contains yummy Candy thong panties and he raise his arm and the other guests goes woooo…
Mrs Lifecruiser says:
- As the kings representative I now pronounce you as the Countess Of Trosa (a place name in Sweden which also means pantie).
…. and she hangs the medallion with the text "Sexy Girl" and with the royal Swedish colors around Anna's neck. (You can see both of them in the photo below).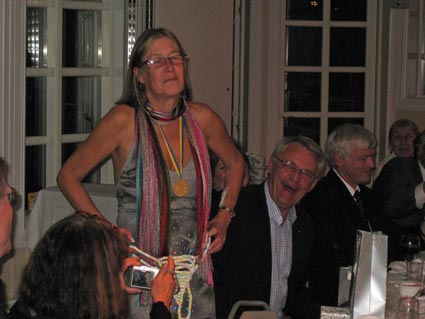 Mr Lifecruiser says:
- We had some problems with what to give to "you that have everything".
… and he gives her a little box which is totally empty and has the text: "You that has everything".
We ended the speech with: Cheers to Anna! Hon leve! (May she live) Hip hip: Hurra Hurra Hurra Hurra – four times, as we always does it in Sweden.
She also got some mysterious packages from us. One standing up. The silver bag you see in the photo above. The other ones is in the photo below.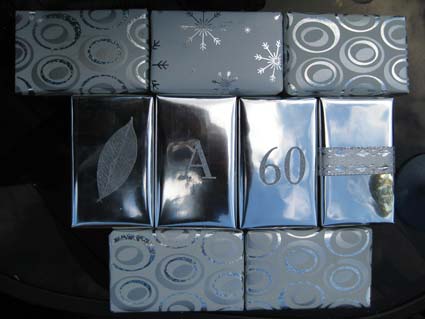 It may sound like a very long speech here, but that's because it's much more difficult to write it all down than saying it, right?
Is there something missing here? Don't you think that Anna is worth a cheers from us old cyber cruisers with our favorite gigglewater?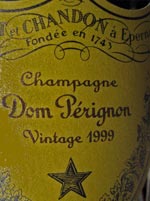 Yes, I did clearly hear you all shouting: Dom! Dom! Dom!
Cheers to Anna, may she live a long and happy life together with Tor!
Lifecruiser ♥ Speech