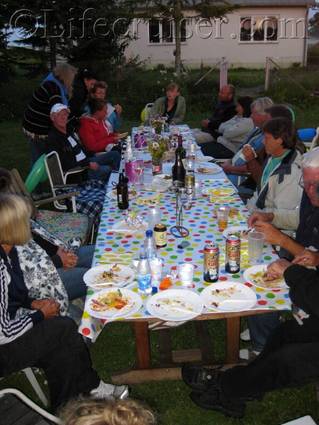 Last Friday evening we had a Birthday BBQ Party here at the farm – for a special reason: to celebrate Jane's (25th) an Kari's (28th) birthdays – as every year.
The reason why we did choose to have it on Friday was because of the weather reports – and the fact that Kari and her parents were going home very early Sunday morning, so it would not be enjoyable for them to have a late evening Saturday.
So hubby and me decided to give them a BBQ party, the relaxed kind of party we're used to here at the farm, no luxury, just very heartly – but this time with the look of a party for kids, with funny table cloths and lots of balloons! *giggles*
Plus: we were in the kitchen for 3 hours working hard to prepare this BBQ!!! (Not to mention afterward: the cleaning up and dishes… So now you know one of the reasons why I haven't visited your blog for a while!)
You have to bear in mind that we have a VERY small kitchen and no water – we have to fetch that from an outdoor kitchen – and not so much kitchen tools either.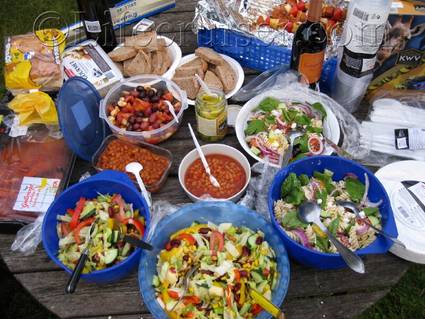 There were two different kinds of salads, one kinda Greek salad with Feta cheese and pasta and another one with lots of vegetables including apple and Cashew nuts. Then some sweet chili beans, Mexican beans, bread, a mix of olives garlic cloves in chili marinade and tomatoes too.
These BBQ skewers we did were great: several types of hot sausages mixed with onion, tomato and apple, marinated with BBQ sauce and extra spices.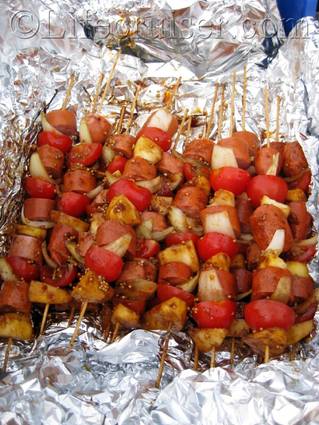 We had such a great evening and were so pleased to see that people enjoyed it and it must have been good because no food were left…!
It were mixed feelings, joyful, but also a bit sad, because they should go home already. Time flies when you have fun….
You can see the rest of the Lifecruiser BBQ party photo slideshow here.
Lifecruiser ♥ Farm BBQ