Join Tackle It Tuesday | Blogroll Code
No, it's not Mr Lifecruiser I'm talking about when I say "Between my 2 TITS"…. *giggles* I'm just amazed that this week I actually did the tackles I should AND managed to sneak in some other activities between the two last TITS!
…and some more tackles – that's equally amazing, no matter how hard I work on this managing of tackles, I always keep adding things to do to the list…
We'll take the fun part first, right? *lol*
I found another pair of shoes for the wedding! These ones are much better than the others.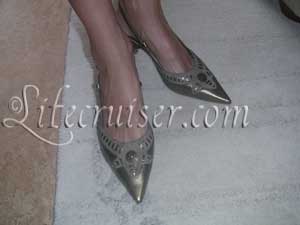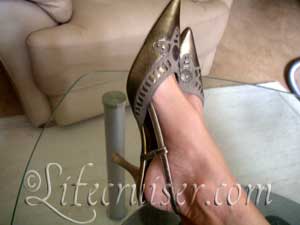 These one has not as high heels as the other ones, which is a plus for my back and they fit the colors of the dress better too! And were cheaper…
Another plus was that the shop-worker also is a pedicurer with a lot of knowledge of feet, so when we begin to talk about putting something in the shoe to support the pads because of my crampings, she gave me a name for a good fixer of pelotts (pads) to the shoes too. I've wanted that for ages now, to support my back.
I've also left a couple of clothes away for some minor sewing job – changes. You have no idea how difficult these tasks have been for me – I've procastinated almost for two whole years!!!
Off to my cleaning of the kitchen cupboards – anyone tired of me nagging about them? I am! So I have very good news: you won't hear me mentioning them again! They're done! Hurray!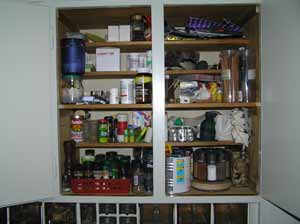 We were so determened in our goal to get ready with them, so we forgot to take photos of all the cupboards – and since I'm so tired of hearing all this myself, you're lucky enough to only be able to see one of them….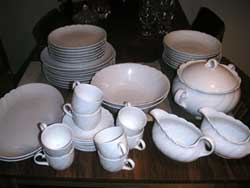 Mr Lifecruiser got the porcelain boxes up from the basement and the white porcelain is now put out for sale.
He also took another bag with document from there and went through – and throwed away all of it.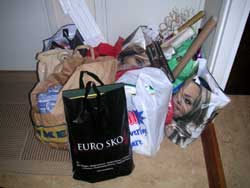 All together it were a lot of bags in the end, with all the things to get rid off from the kitchen cupboards AND the two porcelain boxes from the basement. Only one of those bags were thing we gave away to my sister.
I've done some more about my health issues too, butt that's a whole another post!
Captain TITS Lifecruiser
Reminder rest TITS:
- Clean kitchen cupboards:- done!
- Porcelain boxes (will follow the cupboards cleaning)
- Buy shoes for the wedding: done!
- Clean bathroom – part 1 done
- Basement storage – part 2 done
- Sales ads – Total of 15 done
- Buy a new digital camera
- Buy a new bikini
See the latest post and Tackle It Tuesday participants over at 5 minutes for mom.

Next port: Monday 14th of May – Greek Festival, US. Sword Girl is guiding us

Do you want to hop aboard at next event?
Read about Cruiser Grades.
Read more about Lifecruiser cyber cruise.
Cyber Cruise Calendar 2007
Cyber Cruise Souvenirs