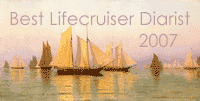 I've decided a while ago to spread some more love and hand out one more prize to an A-Team Cruiser, but haven't got the time to do it until now.
The Best Diarist during our cyber cruise is:
Congratulations x millions!!!
Don't forget to email me your real post address so I can send you the secret prize!
Am I making you curious now or what? *giggles*
The motivations of the jury is:
- She was among the first to start to write a cyber cruise Diary.
- She writes in the Diary with a total empathy ability, serving us the true cruiser enthusiasm and crazyness.
- She gave me the idea about The Crazy Hat Parade by bringing her spectacular hats aboard the ship.
If you haven't read her diary yet, here you got the chance to have a peek into it:
Insanity Prevails post labelled Cyber Cruise
Don't miss that Claudie got her new blog up! Update your link to her to: http://www.lazaza83.fr.
We're having a house warming party over there – so hurry over there and get some champagne while it's still some left

The warmest cruiser hugs

Captain Love You Lifecruiser
UPDATE: I discovered today that Hootin' Anni have had problems with a galopping heart rate the last week. I do hope that they'll find out what it is and cure it soon!!! Hop over and leave her some love from the cruisers – though I had problems leaving a comment since Blogger wouldn't let me.

Next port: Antwerpen, Belgium, Wednesday (Gattina).
Do you want to hop aboard at next event?
Read about Cruiser Grades.
Read more about Lifecruiser cyber cruise.
Cyber Cruise Calendar 2007
Cyber Cruise Souvenirs

Lifecruiser Cyber Cruise in Technorati