Bali has some of the best beaches in the world. There are the famous beaches, Legian, Kuta and Seminyak, with locations being hidden shores or palm-lined coasts. The best beach is the one that's going to get you closest to what will make your stay memorable. And getting to Bali may be cheaper than you think. A little research on www.cheapflights.com.au may just surprise you.
Here's a sneak-peek at beaches in Bali and what activities they are best for.
Best Beach in Bali for Surfing: Kuta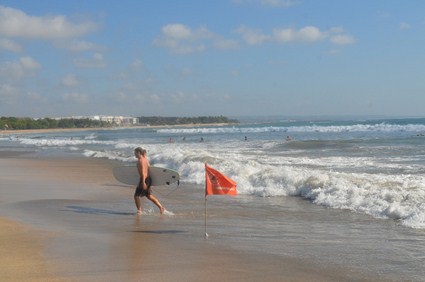 Image courtesy of eGuide Travel/ Flickr.com
Found on the western side of Bali's narrow isthmus, Kuta Beach is one of the world's most famous surf hot spots. On a good day, you can look forward to average wave lengths of 50 meters. On a great day, they can grow to thrice that. It's such a popular location that surfers will make the trip from all over the island to hit these waves.
Kuta is primo for great adventures, shopping and dining. You can take in the Bali Bombing Memorial Monument or discover one of the many temples throughout Kuta that contain brilliant designs and pieces of art. If you fancy shopping head to the Discovery Shopping Mall Esplanade where you may also find live DJs, parades and concerts.
Best Beach in Bali for Swimming: Padang Bai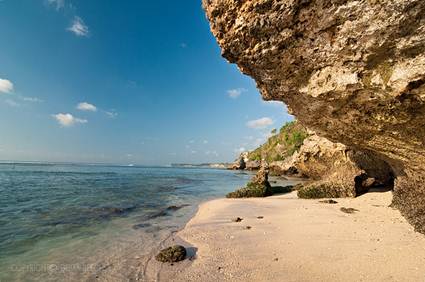 Image courtesy of shanghaifoodie/ Flickr.com
Padang Bai is one of the quieter beaches in Bali. It's warm climates, silver sand, crystal azure waters and wondrous cliff formations, makes for a perfect day swimming or lounging in the comforting rays of the sun. Stretching for 120 meters, it's only accessible through a passage sitting between two cliffs. In the evening, join the gawkers to witness some of the most incredible sunsets.
Swimming, cold beers, cocktails and building sand castles aren't all the area has. There are beautiful villas that sit on the rocks, striking guest houses and bungalows that actually start under $100 per night.
Best Beach in Bali for Sunbathing: Jimbaran Beach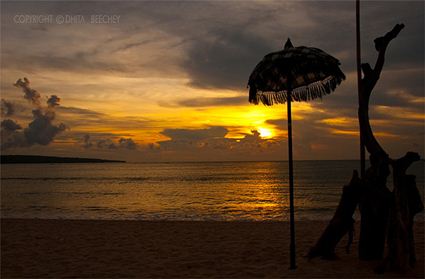 Image courtesy of shanghaifoodie/ Flickr.com
Located on the south-western coast, this beach gets to take full advantage of the sun. The beach and bay are filled with little secluded areas, promising peace and tranquillity. The beach is surrounded by tropical forests and celebrity hideaways. Stay close enough to society so you can still enjoy fruity drinks under umbrellas or find your spot and lay there in seclusion with only the sounds of the waves to keep you company.
Jimbaran Beach is the spot for dining. It has a three kilometre patch of international restaurants and cafes. As one of Bali's most easy going beaches, the nightlife on this part of the island tends to be serene. You'll more likely find romantic dinners and cliff-side rendezvous.
Best Beach in Bali for Snorkelling: Sanur
Purists argue Amed Beach is the standout for snorkelling, however, Sanur takes the edge for its additional attractions. Sanur was Bali's first beach resort, offering serene coastal ambiance. It's where you can find the unique Bali Seawalker, which is a snorkelling device that requires minimum equipment. However, there is still plenty of traditional snorkelling. Schedule to go out during high tide when the underwater creatures are truly animated.
Sanur is small, so if you want to golf, you'll have to settle for nine holes. It's said the Bali Beach Course is a challenge with its hibiscus trees and shady pines. There's also great sailing as Sanur is one of Bali's premier boating points. The beach is perfect for kite flying too and there is an annual festival held here each year.
Best Beach in Bali for Being Alone: Geger Beach
If you're not into the surf and crowds, Geger Beach is wonderful for many relaxing hours. The calm, sparkling water is of a tranquil blue-green colour and the sands are soft yet thick, great for a nice run or a game of volleyball or Ultimate Frisbee. The waves roll smoothly, and watching them can send you to a quiet place. You'll likely glimpse farmers harvesting seaweed.
Geger Beach is excellent for young kids with its quieter waves. There are water sport activities for the family, including beach games. There are also plenty of cafes serving everything from great fish to burgers and fries for the little ones.
If you are going to get away from it all, do it right! Get out to Bali and explore these beautiful beaches. This Indonesian paradise is filled with adventure and relaxation. You won't have any problems finding great rates on flights to Bali with a little research.
Lifecruiser Love Bali Beaches