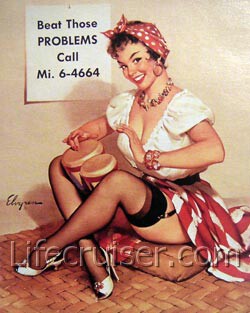 Gil Elvgren, 1960.
© BROWN & BIGELOW INC, ST. PAUL, MINNESOTA
Have you noticed how things tend to add up just before going on a trip?
That's exactly what's been going on over here. I must say that this year start well. *not*
You may have wondered if I'm still ill since I'm not writing as much as I use to here. Well, I can't claim that I'm jumping as a rubber ball exactly, but I'm not still having the flu.
Our life is kind of overloaded at the moment you might say. Lots of paper work of different kind for myself and my mother and on top of that there is certain problems among other near and dear ones that has escalated lately in to an emergency level and does need to be taken care of before we can travel again.
I'm sorry I can't write things here – in consideration of the involved persons. I hope you understand and that I don't make you too curious. Some of you already know part of what's up since it's an earlier problem involved.
To be able to enjoy a trip anywhere, to relax, we need to know that things at least is as safe as it can be at the home front. That we have done all we can do. That's enough.
It's always a good thing to lay extra efforts in trying to beat those problems before going away.
To just run away is not a good first option. It might be a good plan B option though, if things go wrong totally when trying to solve the problems…
This means that I might be occupied more than usual in February, from time to time. Not all the time.
We'll see how this will go, but now you know why I'm absent and maybe you can forgive me for it…?
Captain ♥Lifecruiser