Normally when getting hold on bargain holidays, it's last minute charter flights somewhere, but if travel in the Nordic countries, we can get great deals on several cruises from or nearby the Swedish capital Stockholm to Åland or Finland.
Sitting indoors looking out from the windows on cruise ship passing
Choosing to take a cruise over from Sweden to Åland or Finland, you get to see more places for a really low price – and you get to party aboard the ship on the way!
The trick is timing, as with everything else. Choosing the right time (not in high season) to go can lower the price drastically. If not picky with the cabin location, you can get away really dirt cheap.
They have different entertainment, artists or band performances, shopping, restaurants and bars, just to mention some of the pleasures. Of course it's here they hope to earn some money on you.
Some day-cruises are as cheap as 20-70 SEK (8 Euro/11 USD) and you can't really complain about that price, can you?
Stockholm has a very beautiful archipelago with over 14,000 islands or skerries, so be sure to look out from the cruise ship windows or be at the ship deck as it's leaving Stockholm.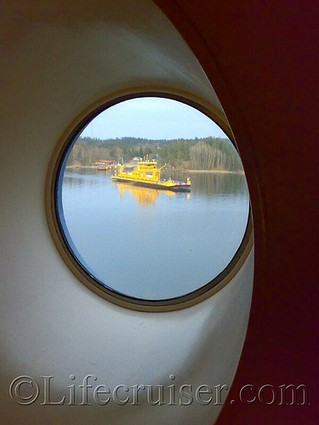 What ever cruise you would prefer, you can get help from the tourist office to get the best choices available at the moment.
My favorite cruise ship though, is Birka Paradise which has a special sun deck with artificial sun, pool, jacuzzi, palm trees, BBQ, bars and a convertible glass roof that can be open in the summertime. It's perfect for the unpredictable Nordic weather.
For Swedes these cruises has not been as popular for years now as they were many years ago, people have chosen other travel destinations instead. Maybe that's begin to change again since many have less money to spend now.
If the weather is with us and there's still tickets left, we might go on a day cruise there ourselves, some day within the nearest month.
Lifecruiser ♥ Scandinavian Cruises