This morning it was dark clouds here and I started to dream about going to warmer places. I would not have refused to go on Barbados Holidays at any time! In fact Barbados has some similarities to our summer paradise island.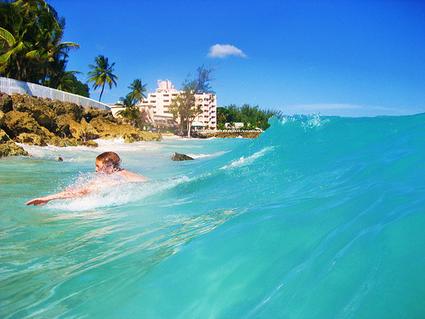 Image courtesy of Ben Ramirez
I am not at all surprised that Barbados is one of the Caribbean's leading tourist destinations, it seem to be such an exotic and chilled out island. Just like our summer island here in Sweden.
Barbados is located in the Lesser Antilles, in the western area of the North Atlantic Ocean – thankfully outside of the principal Atlantic hurricane belt. A hurricane might strike about once every 26 years as an average, but of course, I might hit that 26th year, with my bad luck! (lol)
The Barbados island is only 34 kilometers long and 23 kilometers wide, which actually reminds me, once again, about our own summer island which is about 26 kilometer. The island of Barbados though, has an estimated population of 284,589 people in comparison to 600 of our island. (Even though it increases to about 3000 in the summer!).
Then we have the Barbadian Flag, which has the exact same blue and yellow colors as in the Swedish flag – though we have a cross, they have stripes.
There is something special with some places or islands, a very appealing pace, more relaxing than anywhere. Barbados or our Swedish summer island, it is no difference there.
As the official Barbados Tourism Authority say on their website:

Learn to trade the rush, rush for the slow and easy. Just give us a few days and you won't remember the old you. Let us teach you how to truly live. Come celebrate living.

Come Long Live Life.
Barbados has numerous accommodation opportunities, hotels, guesthouses, time-shares, private villas so there are choices for anyone, also for us that are budget travelers – though for once I would love to test a more luxury alternative.
From what I understand from reading, it is the southern and western coasts of Barbados that are most popular, with calm blue Caribbean Sea and white (or pink) sand beaches. The east faces the Atlantic which makes it more suitable for those interested in surfing – not for us with other words.
The activities I would want to explore are: wildlife reserves, helicopter rides, golf, festivals or animal flower cave exploration. Not to mention testing different exotic drinks in the sunset…. *dreaming*
Nightclubing might be on the schedule first after relaxing a while, we love to hang out at at beach bars instead, just watching people passing by.
I would love to go there on the Crop Over festival (beginning of July), with musical competitions and other traditional activities, even though thousands of tourists visit the island too. It ends with a costume parade on Kadooment Day first Monday of August.
If renting a car you have to watch out a bit, because driving is on the left. I would do a combo of rental car and taking the local bus. Bus is cheaper, but also you get mixed with the locals in a totally another way.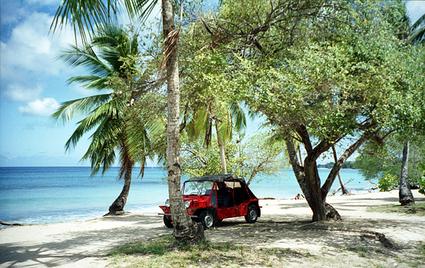 With a car – or mini-moke like the one above – you get to see more than just going on the main routes. It is there you can see the more authentic sights. The sights we are interested in.
When it comes to golfing, the Barbados Open is an annual stop on the European Seniors Tour, so there must be at least one pretty good golf course. WGC-World Cup took place once at the country's Sandy Lane resort.
There are many cruise ships docking at the island and also private moorings. Wouldn't you want to dock there too? That would be awesome. Be aware though that there are penalties prohibit the dropping of anchors on coral reefs!!!
When it comes to food I would love to test their traditional cooking like the Pepperpot, a pork stew in a spicy dark brown sauce that the Bajans are very proud of. Sounds very yummy.
I will end this sipping the local Banks Beer or a spicy Rum Punch in the Barbados sunset… or maybe even in the sunrise…?
Lifecruiser ♥ Barbados Holidays