One of the ports our cruise ship did stop in, was Tallinn in Estonia. Tallinn has a truly charming old medieval part in town, which we were heading to at once. It kind of looks like a mix of Stockholm's old town and Visby, Gotland (our summer island), so we felt right at home.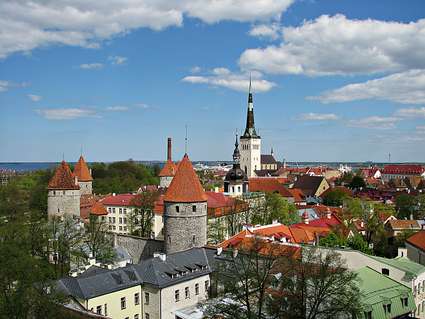 Since Tallinn is a UNESCO cultural heritage site, the one day we had there was not anywhere near the time you need to explore it, but at least we got a glimpse of what it has to offer with it's old defensive wall surrounding it, walking on cobblestone street's feeling thrown back in time.
For the architecture freak, there is so much to see in this medieval town. Only the fortifications has plenty of terracotta towers, not to mention the churches, town hall and the fantastic Alexander Nevsky Cathedral, an orthodox church from the 1900 at the top of the hill at Lossi Plats.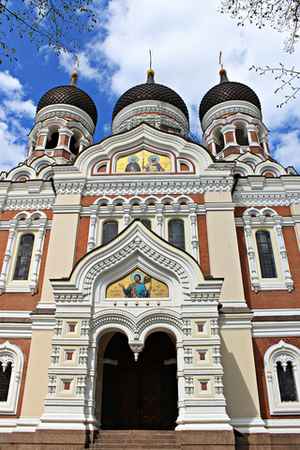 We found this old town of Tallinn to be a real pearl and wandered around for hours and hours determent to get to see as much as possible before the cruise ship's departure called us back to the port.
For the architecture interested, I can mention that we also found art nouveau architecture in a couple of buildings. Of course I couldn't resist to tell you about a love story around them…
Once upon a time there was a beautiful woman living in one of the two buildings who was in love with someone, however it was not the poor rich man living in the opposite building, who fell deeply in love with this enchanting woman. She didn't want him which broke his heart, so he said something like: " since you don't want me, I will stare into your windows all the time instead" – and since then he is staring at the other house, from the corner of one of the gables (as a bust at the facade).
The woman lived in the building with the dragons on it and the poor rejected man in the opposite one. You have to really look for the unhappy man to notice him, so we nearly missed him.
Wandering around following the defense walls, up and down on the hills to get to the view points and on cobble stone streets, is really worth the effort. There is so much to explore in this medieval town. I truly understand why it's a UNESCO Cultural Heritage Site.
When going on this cruise, I got a paper with me from a travel magazine, where there were tips about where to eat and there was especially one of them I wanted to check out, but do you think that I had this paper with me when getting off that cruise ship? No, not me. So we didn't find it…
Instead we made a stop at the town hall square for some light refreshments and to rest our aching backs and feet after all walking on the cobblestone streets. Even though it seemed that most tourists also did stop there too, we didn't find the prices so high anyway and sometimes one has to take what is possible. We could not walk any more.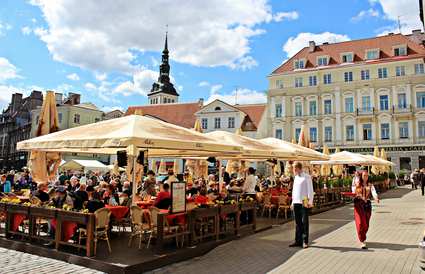 Tallinn has been one of the most important trading ports in the Baltic region and was on the Viking trade route already. For me, the history is more personal: I have relatives over there which I have heard talking about their town, yet this was my first visit. Maybe not the last though!
It takes time to explore an UNESCO heritage site, so if you're going there, make it your only destination or at least spend several days there to have time to really discover this culture treasure of the Baltic area.
Yes, Tallinn is a very interesting and beautiful town, perhaps especially if you love old architecture and photographing! In fact, so nice, that I didn't even notice that I was dead tired after not having any sleep at the cruise ship. Also, we did have sunshine which did contribute to a very lovely day.
You can see all Lifecruiser Tallinn Photos in Flickr.
Stay tuned to read more about our sightseeing time in the next port of this Baltic Cruise: St Petersburg – which included an Idiot (or maybe more) and Russian Vodka!
©Lifecruiser Love Tallinn Old Town
Related Baltic cruise posts by Lifecruiser:
How we escaped from a cruise and ended up in jail… Part 1
How we escaped from a cruise and ended up in jail… Part 2
Our night in Katajanokka Jail