Now we are almost coming to an end of our Baltic Cruise story, but first we must tell you about our stop in the Helsinki port. You have already read about how we escaped from a cruise and ended up in jail and our night in Katajanokka jail. Now we needed to get some kind of return tickets back to Stockholm to be able to get home…
We checked out from the Katajanokka jail hotel, took a cab to the railway station once again, put our bags in a locker temporarily and went to book a ticket at the cruise ship Silja Symphony at the internet terminals in the station. Choosing to read the booking site in Swedish, didn't get us the right pages to book FROM Helsinki to Stockholm, it assumed that we were in Stockholm all the time, so we gave up and took the easy way: we went to the Helsinki expert stand in the station to get help.
There we could establish that it was more expensive to take the cruise home the same day, so we did book the next day instead, giving me time to recover from my… ehrm… toilet experienced night… So anyway, we needed to get another hotel for this night to finally (hopefully!) get some proper sleep. We did choose Scandic hotel for €132 per night and just uphills from the railway station.
We did check in and went to the elevators – and my, how suitable this hotel was for us! Just have a look at those elevator doors…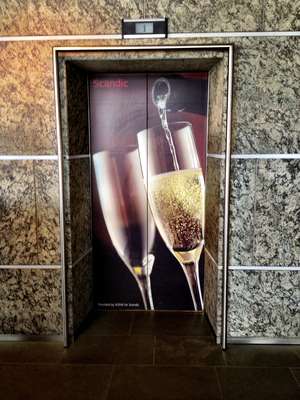 The room was satisfying, with free wifi to get in touch with peeps and the beds divine after the cruise ship beds and not having any sleep… but we went out anyway to see something more than just the hotel room, even though we had been sightseeing the day before and we have seen Helsinki before that too.
At the back of the hotel is a square, which has some pubs, among them Henry's pub and we went for some beers even though it was too cold to sit outside. This day it was really freezing ice cold winds!!!
We also went for something to eat in the mall nearby there, some wraps we did eat watching people walking, no, stressing by. Have you ever watched people a Friday evening nearby any railway station or bus station? Oh my! People really are stressed… I got tired seeing them and we decided to head back to the hotel room and just have a relaxed evening there.
After being at our hotel room for a while, of course, the hungry monster in me did wake up. This time I might have had a proper excuse though, I mean: after emptying myself totally the night before, my body really screamed after nourishment to fill up the gaps with! So I asked if hubby maybe could go down to see if there was a hot dog stand or something nearby, I was craving for mashed potatoes or something potato-related to fill up with, but said that it could go with sandwiches from the hotel lobby.
I should have known, that as sweet as he always is, of course he did run around all the neighborhood for some mashed potatoes for me… without finding any and returning to the hotel – and of course: at the side of the hotel were he hadn't been, there was the hot dog stand! Ha ha! How typical isn't that?
After that we were both very full and sleepy so it was time to finally get a full night sleep – and not on top of any disco loudspeakers with a crappy bed with dirty bed covers, no, this time in proper, clean and very nice beds – feeling like the sleeping Beauty…. ahhh… life was good!
Next day we did relax as long as possible at the hotel room and then our bags went back to the lockers at the railway once again and then we went to the nearest Tapas bar to enjoy the sun with some beers, garlic olives, cornichons and salami to wait until we could take the tram to the cruise ship. Yum!
You can see all Lifecruiser photos of Helsinki at Flickr.
Stay tuned to hear how our last cruise leg was, if we arrived safe at home without any sea sickness – and later on what we did learn from all this and what we really thought about our experience plus all the pros and cons…
©Lifecruiser Love Cruises
Related Baltic cruise posts by Lifecruiser:
How we escaped from a cruise and ended up in jail… Part 1
How we escaped from a cruise and ended up in jail… Part 2
Our night in Katajanokka Jail
Baltic Cruise Stop Tallinn – UNESCO Cultural Heritage
Saint Petersburg Souvenirs
The Idiots Sightseeing of Saint Petersburg
Photo: Illusionary Window