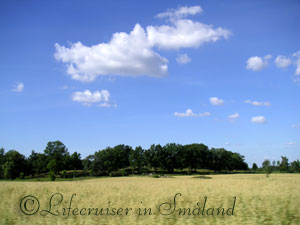 Join Green Thumb Sunday
Both Mr Lifecruiser and I have some agricultural bloodlines, maybe that's why we feel so natural with each other and in the nature? *lol*
My bloodlines is a bit more difficult to track than Mr Lifecruisers, so I choose to tell you about his for the moment.
Mr Lifecruisers grandfathers grandfather, Alexander Müller, born at Wellershof in Ober-Pfalz in 1828 (d 1906), once upon a time came here from Leipzig, Germany, to work as a agricultural chemist, helping the Swedish farmers to learn more about agriculture and played a roll in the Swedish agricultural development.
He was a doctor of Philosophy in Leipzig and later became a teacher at the technical and agricultural school in Chemnitz and manager for the agricultural experimental station there.
He married Clara Theresia Kurtzvelly (Germany) and they got their first son in 1854, Georg Alexander Von Müller. He was ennobled because of his great career in the German Marines as an Admiral and as an Adjutant General for emperor Vilhelm II.
Their second son came 1855, Konrad Alexander Müller-Kurzvelly, which later were living in a villa in Berlin and became a known painter of landscape sceneries. There are still a lot of his paintings around.
The Swedish Agricultural Academy got some funds from the Swedish state and hired him (the grandfathers grandfather) as a agricultural chemist in the year of 1856 and he organized The Swedish Agricultural Chemical Experimental Station, which he managed until 1869.
He did very comprehensive work and investigations of the Swedish earth deposits and the natural prerequisites for the farming generally, chemical investigations regarding manure assimilation and questions regarding the milk householding.
This is no bullshit. *giggles*
At the same time he was working as an advisor for the farmers and tried to implement rational scientific basics in the farming and livestocks.
After that he also went to Berlin for a while, to do some more agricultural chemical work, especially to develop a way to gather up and for the agriculture assimilate the cities waste material in the shape of sewage.
I wonder if he was a bit before his time there or if they were that advanced already at that time?
Later on he went back to Sweden and bought the estate Stensjöholm in the South of Sweden, where he continued to succeed with his agricultural work. In the beginning of the twentieth-century the Swedish state's agricultural academy were located to Stensjöholm which he managed.
It's said that he was important for the agriculture in Sweden and he showed the way to work the land even in Småland (part of Southern Sweden) where the land were full of rocks.
That's probably why he ended up in the Nordic Family Book.
His third son, Sven Alexander Müller, born 1857 (d 1940), Mr Lifecruisers grandfathers father, continued in his shoes and educated as an agricultural scientist at Ultuna Agricultural Academy (Uppsala) and then as a manager of Stensjöholm's Agricultural Academy too.
Stensjöholm were sold in 1918 to a tavern-keeper from Helsingborg, so it ceased to function as an agricultural academy. Sven Alexander Müller sold his estate for 520.000 swedish crowns ($77.000) – which was a huge fortune at that time – and bought an estate in Borås neighborhoud instead for 90.000 sek ($13.322).
The only thing we know after that is that he worked in the experimental field in 1946-1947 outside Stockholm some where.
He focused more on moss culture and I found a reference to an article of some kind (on the internet) that he is supposed to have written for The Swedish Moss Culture Organisation's Journal that made us curious, so we're going to the Academy's Library some day to ask for it!
Even Mr lifecruisers grandfather also named Georg Alexander, were having his agricultural education at Stensjöholm and had a mansion (Liljesta Herrgård nearby Söderköping) in the country in the years 1918-1923 – mostly with grains and only a small livestock.
So, does this mean that I got myself a farmer boy? *lol*
No, Mr Lifecruisers father Sven have no agricultural education, neither does Mr Lifecruiser or his brothers, but on the other hand – there is not much chance for them to run an agricultural estate around Stockholm nowadays!
The chain with family names Sven, Georg and Alexander were broken there at Mr Lifecruisers branch of the family, though Mr Lifecruisers daughter got one of her forenames – Alexandra, after Alexander.
I really wish that we had some photos to go with this post, but we haven't for the moment. Maybe we can dig some up later on.
I always find it so interesting with old history and especially if it's in the family

Captain Natura Lifecruiser