If you get hungry and love the good old days with classics cars while you are on a trip in Gotland island outside Sweden's east coast, you can go and have some car-nostalgia at the road coffee stop 56ans Café.
Many owners of classic cars like to make a stop at the 56ans Café on their way up north on the Gotland island and so did we too this summer. The old Austin Cambridge in the picture above is not ours though!
The café menu has old classics like the Bike sandwich with sausage and egg, Swedish meatballs sandwich or the special coffee & prawn sandwich offer for only 45 SEK which is about $6,45 or €4,75.
The interior inside the café is filled with old car-related things – what do you say about drinking coffee – or "having fun" *giggles* – on this classic car seat-sofa in the picture, a very old tradition!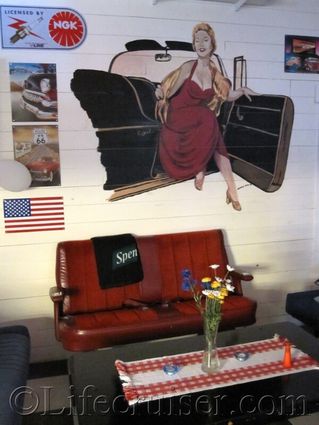 There is also the Nostalgia shop inside with lots of pillows with classic motifs as well as lots of old signs, bags, mugs etc. My only problem was were I possibly could put all those marvelous nostalgia signs I wanted to buy!
Well, we ended up only buying a bag and mug with Marilyn Monroe on them – which we took with us to Norway later as a gift to Diane.
In the photo below you can see some of the wall decoration at the entrance of the café – very US influenced for being on a very small Swedish island, don't you think…?
This summer Gotland tourists also got a new Quick stop place for temporary accommodation for motorhomes and caravans next to the café, which has an extended guest service. There you can fill up with water, empty the tanks, recharge batteries plus use the toilet or shower.
The fee is 100 to 150 SEK (€10,55-15,80 or $14,30-21,45) per night depending on the Caravan equipage. Note though that the idea is that you only stay for one or two nights. It is not like a regular camping place.
56ans Café is located in Tors, Bro, along road 148 about 8 kilometers north of Visby, which is the Old medieval Hansa town you arrives to when coming to Gotland with the ferry from the mainland.
Lifecruisers 56ans Nostalgia Café photos (20).
Lifecruiser ♥ Gotland