I had a wonderful 50th birthday in Prague – which was my birthday gift from hubby. Add to that to wake up to birthday singing, with sparkling wine and Roses on the breakfast tray…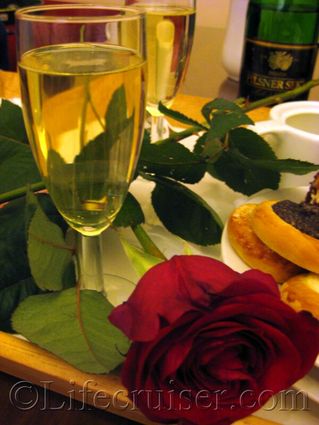 The roses were so beautiful, I would even say perfect. There are roses and there are roses if you know what I mean…
It's a little story around those roses and the sparkling wine. It should have been 3 bottles of them and many, many more roses, because there were more persons trying to give me them!
I guess you can figure out that hubby ordered champagne & roses for me. Then there were our dear Norwegian blog friends calling the hotel ordering the same! Then my best friend Miss Ass. Lifecruiser called the hotel from Spain and tried to order it too, but she got refused to for some strange reason…
Obviously the hotel had never experienced a person that could be celebrated by several persons at once, because all that came in the morning were 1 bottle of Czech Pilsner Sekt Demi sec Premium – which seem to be their most popular sparkling wine – and 5 beautiful red roses.
I didn't mind terrible though, it's always interesting to taste something produced in the country or city you are in right then and besides that I only managed to drink that bottle! *giggles*
At the breakfast tray there also were a very nice birthday letter from our Norwegian blog friends, TorAa and Anna, RennyBA and DianeCA plus the fact that they even called me later that day to congratulate me!
…and then there were a lot of congratulations by phone calls, in different social networks including emails – you guys and gal's totally ROCKS!!! Thank you so much!!!
Not only that, when we arrived at home there were a surprise left for me on the kitchen table: my wonderful sisters and brother had been there while we were away and put some gifts for me.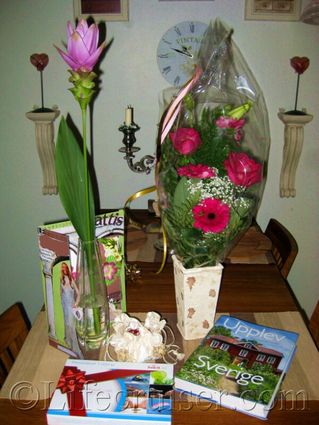 This was done despite the fact that I had announced that I would not celebrate my birthday, but of course I understand that they wanted to give me something anyway. I'd have done the same.
They certainly know me well, because what did they choose to give me? Flowers, the left one an Asian one, 1 book of exploring Sweden which I have been tempted to buy myself, my favorite chocolate from Lindt and an adventure gift box!
The adventure gift box is from Live It where I can choose an activity to do. Only problem is: there are so many interesting things that I'm having problems to choose… *giggles*
I'm also limited, since I can't do anything that endanger my back, no bumpy stuff risks, so I can't choose for an example a balloon flight – which I might have done otherwise!
They gave me the coolest card ever! With an old photo of me (my head) on the front glued on some celeb's body.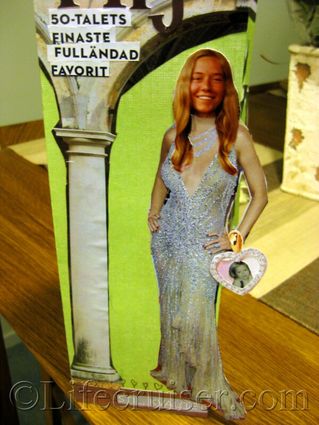 This is something they always have done, the old kinda scrapbooking: mixed photos with cuts from magazines and other things.
The card text says: The 50′s finest perfect favorite. And in small at the bottom you can't see: Style and Quality. Oh my, I'm flattered… *giggles*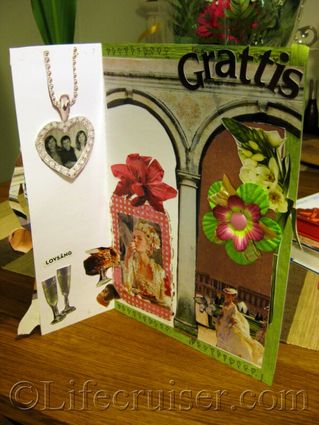 My sister was with us when we saw the movie about Marie Antoinette, plus hubby is said to be related to her somehow way back in time, so it was a good choice to put pictures of Marie Antoinette in there.
In this photo in the heart below you can see my siblings gathered, just as they are in my heart. The photo is taken sometime during the end of the sixties.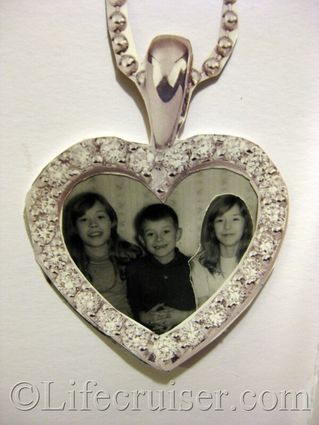 I'm so grateful to have such wonderful siblings! Never ever any problems between us and we're really there for each other when it counts. They're the best!
In my next post I will tell you about the evening out in Prague we had on my birthday, when we met some really nice guys!!!
Lifecruiser ♥ Travel