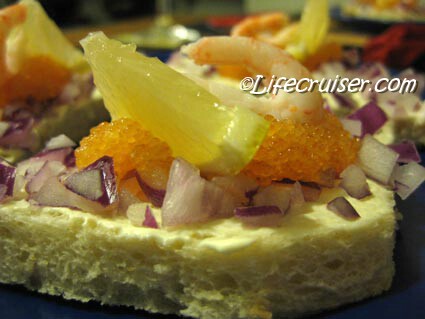 I had a great birthday yesterday. You know that I had already opened my birthday present, it was the Vienna trip and the Spanish Ridingschool's performance. I didn't expect anything more.
All that I wished was to have a cozy lazy day indoors - and recover from our earlier trips. You know I have my ailments that I try to ignore. Sometimes I have to listen to my body though. *giggles*
Mr Lifecruiser came up with the brilliant idea that he should cook me a 3 course birthday dinner. What a perfect gift for me, the hungry monster!
Only thing was that I had to wish what it should be. That wasn't easy, because we had just had breakfast (13.30 pm!) and I wasn't that hungry yet, to get really inspired.
However, this was what it ended with… With the romantic light of candles of course!
Starter: Top photo. Toasted bread with creme fraiche, white fish roe, red onion, lemon and a shrimp as garnish. Moet Chandon to drink. Cheers!
Main course: Fresh pasta, fresh shrimps, green asparagus, red onion, butter, Mexican-chili creme fraiche, salt, pepper… continued to drink gigglewater. Cheers!
Dessert: Home made apple pie with vanilla sauce… and coffee…
Evening drink: The French turquoise liqueur HPNOTIQ. Served chilled with crushed ice. Actually I don't really want to call it liqueur, I think it's more like a drink. It contains Vodka, Cognac, tropical fruit juices.
Sorry, no photos, they didn't turned out well. Either I was too drunk (lol) or I'm a bad photographer. Your choice

Of course there has been a lot of phone calls from family & friends who congratulated me - and even from Tor and Anna, they're so sweet!
Then there were all of your birthday greetings to answer too. Thanks again to all of you. Heartwarming in this bad weather, typical birthday weather of mine. Maybe it symbolize the flooding of Champagne…? *giggles*
Today though, the sun is shining for once and we're gonna meet up with my sister to have a day at the city, including some coffee and cake.
Lifecruiser ♥ Dinner