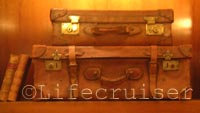 The cyber cruise is starting Friday the 16th of March and goes on for at least a couple of weeks – maybe longer. Read more about it in several posts down below this one.

Step 1: What??? Is it tomorrow we start the cyber cruise with Lifecruiser?? Butt I haven't even begin to pack…. Oh, and the clock is….too much! (Happens every time when we shall travel somewhere)
Step 2: Where are the suitcases? Down in the basement? Oh my, going down there in the middle of the night having the scary dark creatures breathing me in the neck doesn't seem fun to me…
Step 3: Yoo hoo! Mr Lifecruiser! You have to go down in the basement if we're going! I hope he comes back in one piece from there. I need him to carry the suitcases…
Step 4: Running back and forward between the closets and drawers gone for the world like a hysteric cackling hen in very deep concentration. How do I prepare for both hot summer weather and cold weather as it probably will be in Alaska?
Step 5: Help! I have no clothes! I have to go naked!!!!

Step 6: Finding some few garments, butt they aren't clean! Hysteric outburst over my not functioning brain who couldn't think of this in advance. What to do? No tumbler drier! Washing the clothes, trying to dry them by squeezing them between towels first, then blowing them with the hairdryer! And then deciding to not take them with me anyway – the colors don't fit…
Step 7: Come to think about it? Where are my passport? Oh, horror thought: is it still valid??? Wheren't there som new rules about them now? Pulling my hair out with the roots. Why am I torturing me with all this???
Step 8: Must shave my legs. Can't travel hairy like a monkey. They might send me out in the djungle then. Wait, I've always wanted to go on a djungle safari so maybe that's good….. Hm….
Step 9: Medicines – I always get sick on trips! Dumping them in my toilet bag. Do they have tampons where we're going? I mean good ones. My hole I'm very picky with tampons. They have to glide in smoothly like a …….. *giggles*
Step 10: Damn it! Oh my god! I forgot to charge the batteries! No, not for my dildo – I have a much better one that works without batteries and charged by old potatoes – butt for the camera & mobile phone! Now it has to be plugged in the rest of the night until we weigh anchor and then I'll probably forget them anyway….
Step 11: Miss Ass. Lifecruiser is calling in the middle of my packing and we talk for hours and hours. Oooops, maybe I should finish the packing and try to sleep a minute since we're going away in a couple of hours?
Step 12: Packing the most important things which is difficult for me to find in the right size or style in other countries: shoes, party dresses, panties, bra's & my never fitting well bikini to small for my boobs and too big for my butt making the sand coming in the wrong places giving me unwanted peelings. I don't want to be in need of clothes on trips – I like to be without clothes most of the time…
Step 13: Mr Lifecruiser is during all this time playing net poker or watching TV totally calm and when I'm done he just goes up, open his closet and drawers and just swipes everything down in his suitcase. Ready.
Screaming out loud: It's just not fair!!!
♥ LIVE, ENJOY… LOVE… CRUISE LIFE!
Wanna cruise with us? All that it takes is a link to us and participation in our cruises – no demands besides that. It's only A-Team Cruisers that hosts the cruise and by own generous choice

Want to participate in Thursday Thirteen?
The purpose of the meme is to get to know everyone who participates a little bit better every Thursday. Visiting fellow Thirteeners is encouraged! If you participate, leave the link to your Thirteen in others comments. It's easy, and fun! Be sure to update your Thirteen with links that are left for you, as well! I will link to everyone who participates and leaves a link to their 13 things. Trackbacks, pings, comment links accepted!
Visit other participants
Thursday Thirteen in Technorati