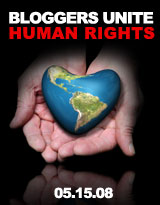 This is a subject that should be totally unnecessary to write about. In fact I HATE the fact that I have to write this… but we need to unite all over the world to get focus on all this violating of human rights that are going on and hopefully make a difference.
We just have to do it. We're all humans, right?
Remember the UN's Declaration of Human Rights?

"All human beings are born free and equal in dignity and rights."
13 Human Rights Points
1. Considering the fact that even Guinness Book of Records describes the UDHR as the most translated document in the world, we does seem to have very big difficulties to understand it…..!!!!
2. Alfabetic listing of translations of the declaration of human rights to other languages – in case some one have problems to understand it…
3. Human rights are protected under the Instrument of Government here in Sweden, one of Swedens 4 fundamental laws, but not even we Swedes are perfect. We do have some violations too in this country, even though not as much as in certain other parts of this wonderful (?) world.
4. Human rights topics in Amnesty International – too many that shouldn't be necessary!
5. Support and Defend Women Human Rights Activists- Take action you too! (click on the links/names and read how)
6. Take action for Children's Rights!
7. Be sure to read the reports and background on Darfur!
8. Join Amnesty to help end the violence in Darfur!
9. Stop the Violence in Darfur – Take action you too!
10. Keep your Eyes on Darfur and save Darfur!
11. Do more online to help!
12. Join Amnesty Wireless – Let freedom ring! (Excellent mobile phone service with 10% of your charges go directly to Amnesty International USA, at no extra cost to you!)
13. If not doing something else, at least donate to: Amnesty International, The International Rescue Committee, International Medical Corps, Mercy Corps or Doctors Without Borders!

photo credit: Nite_Owl
Cooper also runs an informative and compassionate blog, Darfur: An Unforgivable Hell on Earth, which I highly recommend you to subscribe too!
Captain ♥Humans Lifecruiser
T13 Code | T13 in Technorati